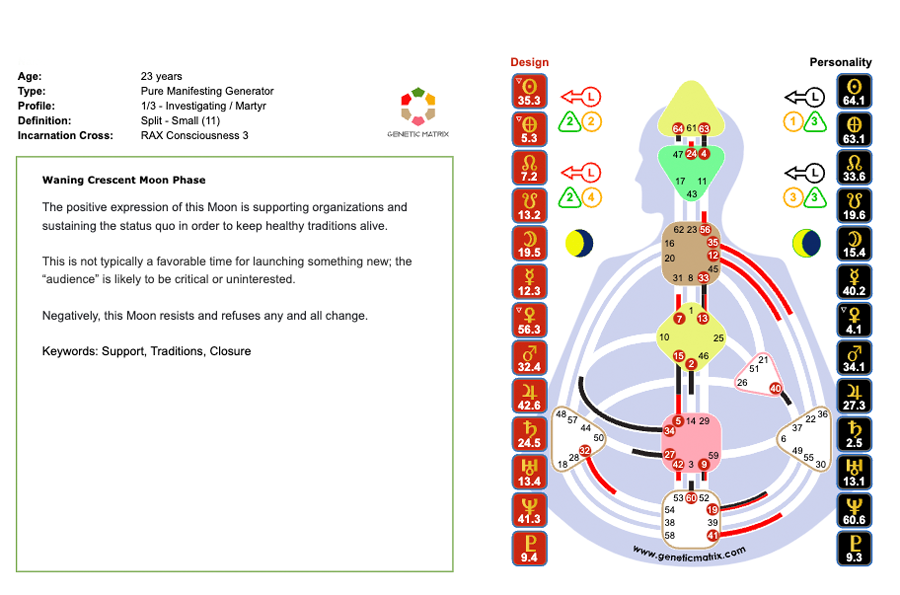 Are you a member of Genetic Matrix and have noticed there are now Moons on the Foundation and HD Astro charts?  These Moon Phases represent what phase the moon was in when you were born or at the time of the chart you created.  If you want to learn about what the moon phase means in your chart you can go to the interactive chart and click on the Moon phase image to learn more about it.  You can find this information also on transit HD Astro charts to learn more about what phase the current moon is in.  This is also a feature you can turn off in the settings if you do not want it on the chart.
As you can see in the example chart in this article the Moon was a Waning Crescent Moon phase when this person was born.  The Waning Crescent phase is when the lit-up part of the moon decreases from 49.9% to .1%.  This is when the moon is visually decreasing.    You can see ways in which the moon phase can affect you or the person's chart by reading more about it in the interactive chart.
This is a list of the different moon phases:
New Moon
Waxing crescent
First quarter
Waxing gibbous
Full Moon
Waning gibbous
Third quarter
Waning crescent
It is also helpful to know what sign your Moon is in.  This is where the HD Astro chart and HD Astro Astrology Wheel is helpful.  This example chart has their moon in Gate 15.4 which is Cancer.  You can learn more about the natal Astrology Moon placement and the transiting moon placement and what it means here.
If you are interested in looking at Human Design from the eyes of an astrologer or want to look at Human Design from an astrology perspective I would highly recommend checking out more articles on Genetic Matrix to learn more. Genetic Matrix offers a Human Design Calendar, a Human Design Astrology Wheel, HD Astro (Human Design Astrology Chart and in multiple foreign languages. If you want to learn more about Human Design and the Human Design Gates you can learn more here.