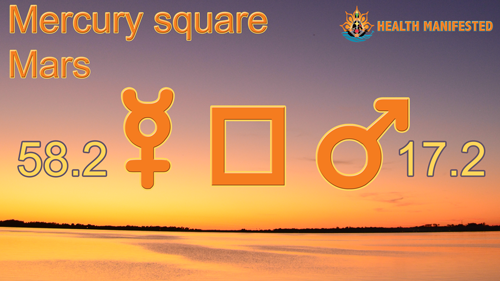 Mercury is in Human Design gate 58.2 and is squaring Mars in Human Design Gate 17.2 on January 8, 2019. This is going to give us more energy. This energy can make us feel more stressed. This can make us feel impatient can create tension. Try to be more accepting and patient. If you get frustrated go for a walk and take some deep breath.  We can feel confused about our life path during this time.  Be extra careful and take extra precautions during this transit.  This energy can bring hasty decisions and accidents.  Don't force things.  Calm your nerves.  Pace yourself.  Don't worry.
Other Mercury Square Mars Dates
October 19, 2018
November 26, 2018
January 8, 2019
May 11, 2020
July 8, 2020
July 27, 2020
January 8, 2021
February 10, 2021
March 23, 2021
Are you interested in learning more yourself or how these transits affect you on a personal level?  Check out our products page to learn about the different types of readings we offer.
Click here to learn more about other Human Design Gates. or see other transits. Also, make sure to get your Free Human Design chart to take on your journey through the exciting world of Human Design.