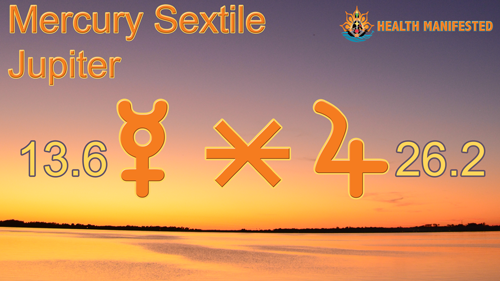 In the afternoon of February 3, 2019, Mercury is in Aquarius in Human Design Gate 13.6 and is in a sextile with Jupiter in Human Design Gate 26.2. Gate 13 is the gate of the listener and gate 26 is the gate of the trickster. This aspect makes us more optimistic and will have more opportunities. We will want to focus on our long term goals. We will have better judgment during this time and can work well with others.
Other Mercury Sextile Jupiter Dates
September 24, 2019
April 7, 2020
November 28, 2020
April 17, 2021
December 11, 2021
April 27, 2022
May 19, 2022
June 20, 2022
February 17, 2023
July 1, 2023
Are you interested in learning more yourself or how these transits affect you on a personal level?  Check out our products page to learn about the different types of readings we offer.
Click here to learn more about other Human Design Gates. or see other transits. Also, make sure to get your Free Human Design chart to take on your journey through the exciting world of Human Design.