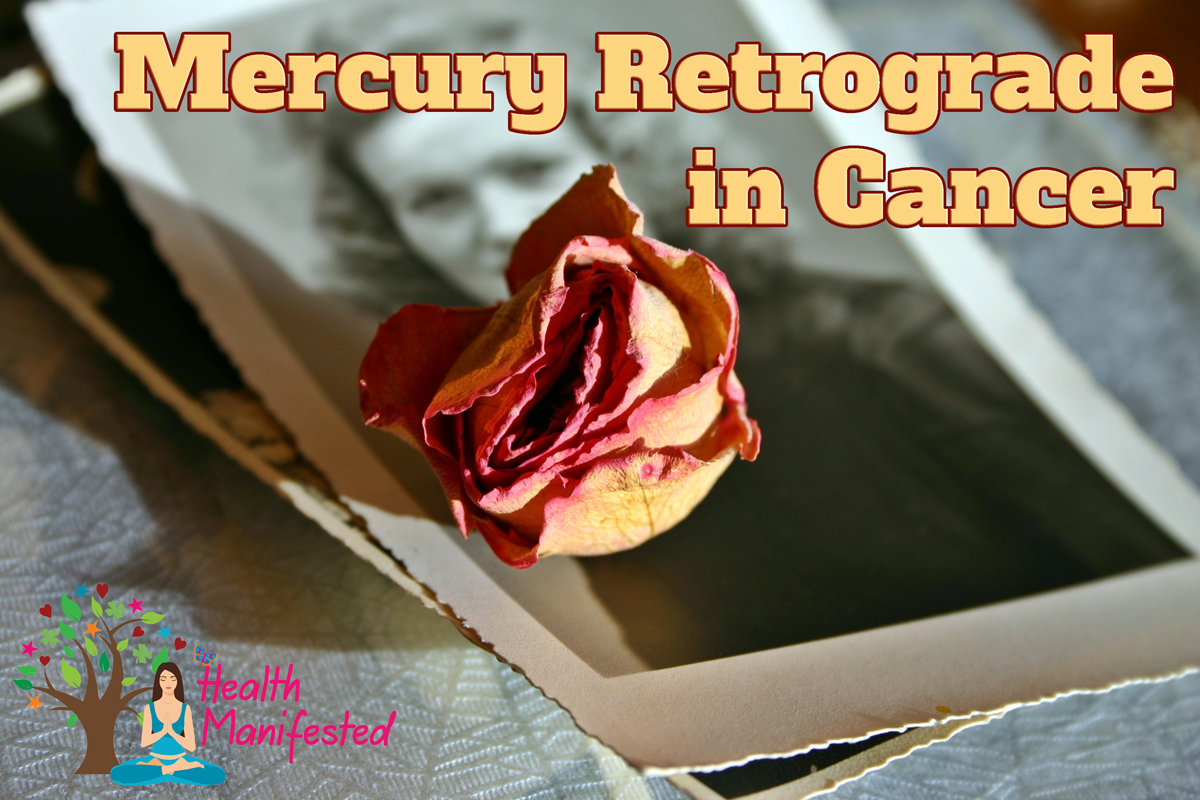 Mercury retrograde's in Cancer from June 18 – July 11 starting in Human Design Gate 39.6.  Mercury turns direct July 12th in Human Design Gate 52.2.
When Mercury is in Cancer it can have us talking more about the past, memories and make us more emotional about the past.
Mercury entered Cancer on May 28th and still stay there until August 5, 2020.  You may notice you are talking with your families about the past.  You may even had people texting you pictures from the past.  Cancer is connected to home, family and the mother.  This is a great time to learn about your ancestors or dig through old photo-books of fun times from the past.   Something from the past can also give you insights into your current situation.  How has the past shaped your current situation?  This energy can also show you how you are playing out patterns from the past.
Cancer is an emotional sign and with Mercury retrograding there it can bring up a lot of emotions and emotional attachments to things from the past.  This is a great time to let the ones you love and appreciate for what they have done in the past or memories you enjoyed from the past.  Show people how you feel.  You may even get an awareness of how you really feel about something you weren't aware of.
Mercury Retrograde is a time to rethink, review and re-evaluate.  Use this time to review the past.  What did you love about it?  What would like to recreate?  What would you like to let go of?
Cancer is a sign that wants safety and to feel nurtured.  What can you to to create more safety and security into your life?  How are you nurturing yourself?  What are you eating?  Do you have your pantry stocked?  Are you growing a garden?  What foods are you nourishing your body with?  Have you check out Emeals?  They are great ways to make healthier choices.
Tools and Articles
It is helpful to look at which houses are affected whiles Mercury is in Cancer to see what area of your life you may experiencing this energy.  Look at the houses Cancer is in and that is the area of your life where you can see more of what will be affected most by this energy.  Read this article to learn about which house system is most accurate to learn more about the houses and see which house Cancer is in your chart.  You can pull both the Placidus system and Whole Sign system charts and see which one you resonate most with.  For those of you who are interested in combining Human Design and Astrology Genetic Matrix developed a Human Design Astrology Wheel to help you follow along with these articles and use as your knowledge grows.  Another great software you can purchase is Astrograph.  The have reports in the software Time Passages that you can use to help you better understand the aspects.
Are you interested in learning more yourself or how these transits affect you on a personal level?  Check out our products page to learn about the different types of readings we offer.
Click here to learn more about other Human Design Gates or see other transits. Also, make sure to get your Free Human Design chart to take on your journey through the exciting world of Human Design.