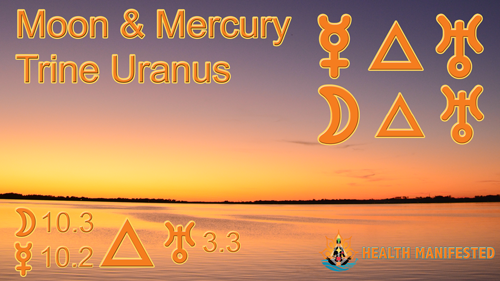 Januryar 4, 2019 Mercury and the Moon are in gate 10 are trining Uranus in gate 3.  We are opening up to new possibilities. There is a big potential for good news coming our way today.  This is a great day for stimulating conversations and socializing with friends.  We can get insights.  You may find solutions to problems.  This energy has the potential to make us feel restless.  We may learn very quickly under this transit.
The Moon trine Uranus is bringing change and excitement.  This transit also makes us more social and openminded.  This is a great time to try new things.  Break free from old patterns.
Be patient.  Change is here.  Stay positive and stay focused on your goals.
Are you interested in learning more yourself or how these transits affect you on a personal level?  Check out our products page to learn about the different types of readings we offer.
Click here to learn more about other Human Design Gates. or see other transits. Also, make sure to get your Free Human Design chart to take on your journey through the exciting world of Human Design.