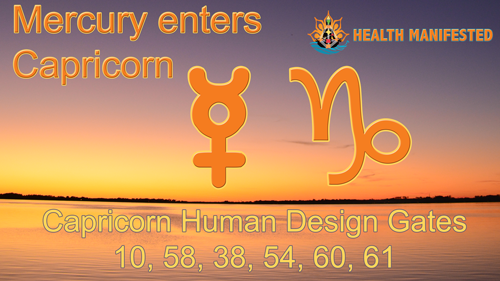 January 5th Mercury moves into Human Design Gate 10 in Capricorn. When Mercury is in Capricorn we become more focused, organized and goal oriented. We will get more clarity on what we need to do to make our dreams come true and get clarity on situations that don't make sense.  This is great energy for getting business done and communicating with others.  The Human Design Gates in Capricorn are gate 10, gate 58, gate 38, gate 54, gate 60, and gate 61.
Are you interested in learning more yourself or how these transits affect you on a personal level?  Check out our products page to learn about the different types of readings we offer.
Click here to learn more about other Human Design Gates. or see other transits. Also, make sure to get your Free Human Design chart to take on your journey through the exciting world of Human Design.