Have you ever wondered what Louise Hay's Human Design chart looks like or why she was the way she was?  Have you ever wondered why she was such a powerful healer to the world and why she became so successful?
Louise Hay had her conscious Sun in Gate 48.6.  This is the energy for a wealth of knowledge.  As you probably know, she had a wealth of knowledge about healing the body.  Her conscious Venus, the planet of love and what we value was in Gate 46.6.  This is the Gate for the love of the body.  She had her Sun and Venus in the 3rd house.  In Astrology this can be writing and communication, which is why she wrote several books and was so successful with communicating about healing the body.  Her conscious Earth was in Gate 21.6 in the 9th house.  The 9th house is the house of higher learning, beliefs and long-distance travel.  Gate 21 has the ability to be great at managing resources.  Louise Hay was able to use her wealth of knowledge, beliefs, and resources to create a wonderful healing program.  I am sure she did a lot of traveling to teach her knowledge as well.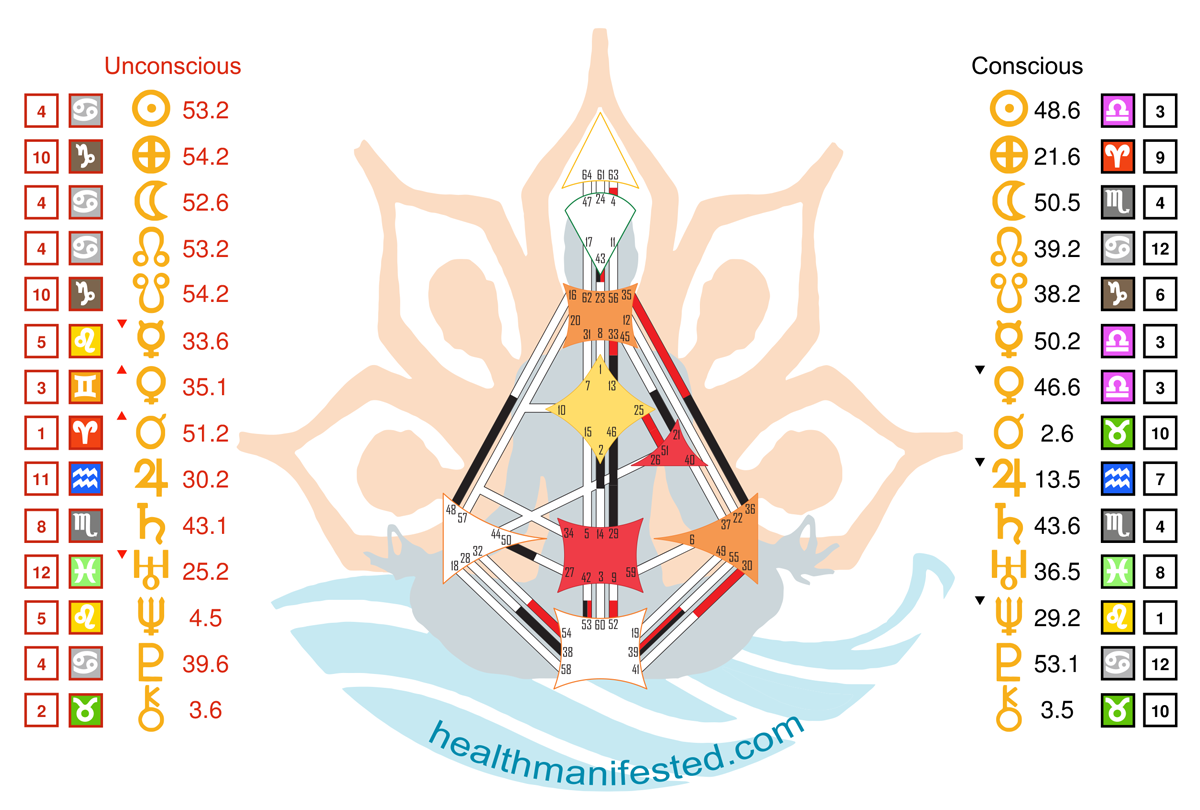 Louise had her unconscious South Node in Gate 54.2.  This is the Gate of Ambition and it is in her 10th house, which is all about reputation and career.  This Gate is often known as an entrepreneurial Gate.  This is why she was so successful in having her own business.  She also had her conscious Neptune in Gate 29.2.  This is the Gate of commitment.  Neptune is known as a spiritual planet and she stayed committed to her beliefs around her ability to heal and her love of the body.  She also had an undefined Spleen.  People with an undefined Spleen have the potential to be a medical intuitive and healer.   She had Uranus in Gate 25.2 in her 12th house.  The 12th house has a lot to do with spiritualism and trust.  The Gate 25 can be a shaman or a healer.  She used her healing abilities to help others trust that they can heal themselves.
Louise Hay had the channel 13-33, which can be the energy of someone who can be a great therapist.  Jupiter, the planet of reward and expansion is in Gate 13.5 in her 7th house.  The 7th house is the house of relationships. The Gate 13 is the Gate of the listener.  She helped people learn to listen to their bodies and taught that our bodies hear our thoughts and are always listening.  She had her conscious South Node in Gate 38.2 in her 6th house.  This is the house for health and career.  The Gate 38 is the Gate of the fighter and politeness.  This energy can be very empowering and she empowered so many people to fight for their health by being kind and loving to their bodies.  She also had her Mars in Gate 2.6 in the 10th house.  As I mentioned above, the 10th house is about career and reputation.  The Gate 2 is the energy for trusting that what you need will be provided.  She has helped so many people trust and believe that the healing they desire is possible.  She had her conscious Chiron in the 10th house in Gate 3.5.  This is the Gate of ordering.  She organized her wealth of knowledge to heal others.
I am not familiar with when Louise Hay presented her teachings to the world, but her chart would show that she probably started writing or published her first book around her Chiron return around the age of 50.  She is a perfect example of someone who has lived the fullest expression of their authentic self in the highest expression.
Are you interested in learning how to heal yourself with Louise Hay's healing technique's?  Some of her well-known books are You Can Heal Your Life, Love Your Body, Love Yourself, and Heal Your Life Workbook.
Are you interested in learning more about your Human Design and Astrology?  Check out the services we offer or learn more.  Check out other Celebrity Mini Human Design Astrology Readings.