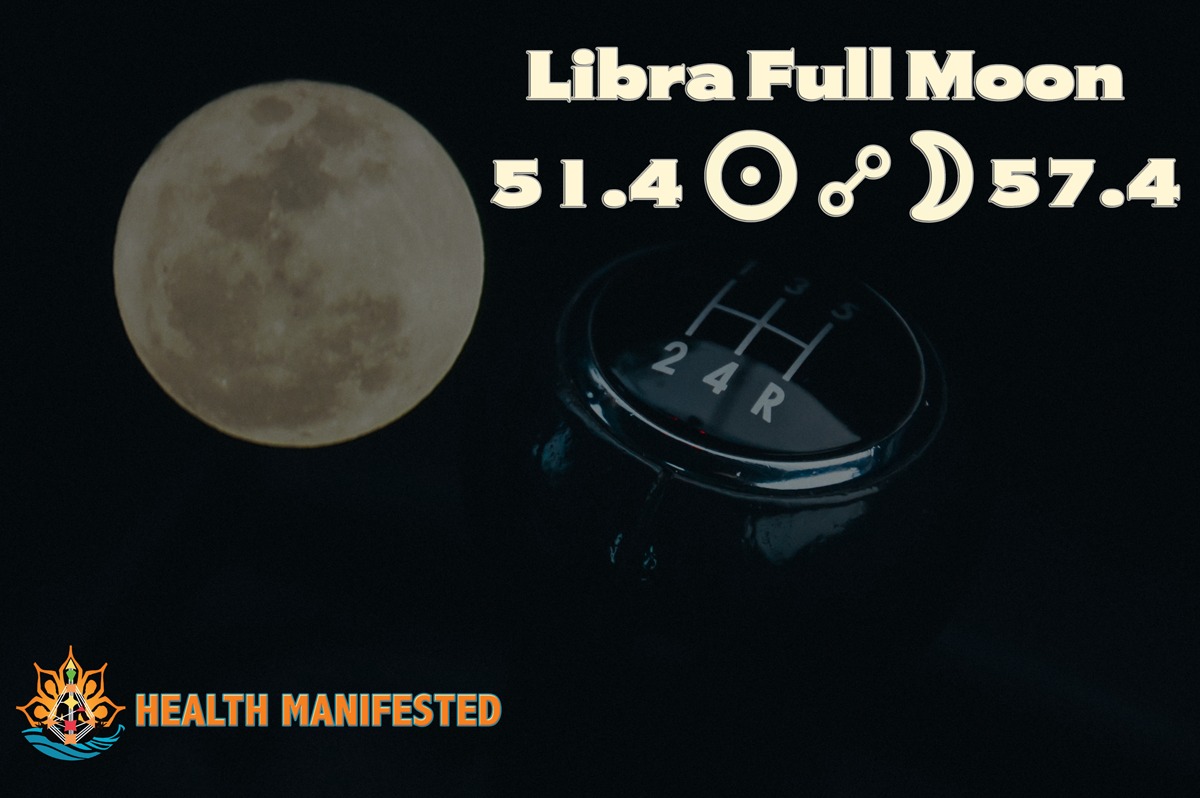 April 07, 2020 we have a Libra Full Moon at 18° in Human Design Gate 57.4 at 7:12 am ET.  This is the energy for intuition and the director.  The Sun is at 18° of Aries in Human Design Gate 51.4.  This is the energy for shock and limitation.  Aries is a sign that is courageous, independent and can be selfish, while Libra is more about giving and receiving, sharing and fairness.  During this time we can be talking with others about how we want more independence, what is shocking and asking for advice from others.
This full Moon is squaring Pluto conjunct Jupiter in Human Design Gate 61.5.  This Jupiter Pluto conjunction is a big aspect.  You will feel something shifting.  The square can be a challenging aspect we have to work harder to accomplish.  During this time we might feel like we have some crisis and need some time to plan and look at a situation to evolve to the next level.  This is going to create some change in your life.
Venus is in Human Design Gate 20.4, which is the gate of now. Take some time out during this Full Moon and envision the future you want.  This is the energy for uniting and being in the moment and it is trining Pluto and Jupiter asking you, what do you want to change in your life?
Libra is about other people and during this time we may need other people's help and also look at things from their point of view.  We can work with others to help us find a way forward.
Mars and Saturn are in Aquarius asking you, what are your long term goals for the future?  What foundation do you want to create for the future?
What is next for you?
It is helpful to look at which houses are affected by this Libra Full Moon to see what area of your life you may have some shocking changes involving other people or how others may help you shine.  Look at the houses Aries and Libra are in and those are the area of your life where you can be improving things in your life.  Read this article to learn about which house system is most accurate to learn more about the houses and see where the Libra Full Moon is happening in your chart.  You can pull both the Placidus system and Whole House system charts and see which one you resonate most with.  For those of you who are interested in combining Human Design and Astrology Genetic Matrix developed a Human Design Astrology Wheel to help you follow along with these articles and use as your knowledge grows.  There is now a Human Design Astrology Transits chart that can show you which house this conjunction is happening and a Solar Return chart.  Another great software you can purchase is Astrograph.  The have reports and you can see what each aspect means.
Are you interested in learning more yourself or how these transits affect you on a personal level?  Check out our products page to learn about the different types of readings we offer.
Click here to learn more about other Human Design Gates. or see other transits. Also, make sure to get your Free Human Design chart to take on your journey through the exciting world of Human Design.