New Team Member applications are currently being accepted
Teamwork makes the dream work. Would you like to get more exposure? Do you have a talent you would like to offer? Are you a Human Design Specialist, Gene Keys expert, Astrologer, Medium, Coach, or Tarot card expert, or do you have another spiritual-based profession? Are you someone who offers holistic healing or has a more natural approach?  We are looking for therapists and counselors alike.  We are also looking for encouraging and inspirational professionals who would like to have support and get more exposure.
Why Join our team?  Exposure is key to success in the online space. HealthManifested.com can help you get exposure.  We have over 125,000 page views per month and growing.  Having a profile and link on a high-quality website can boost your rankings in Google and other search engines.  Being on this website will increase your exposure and can help boost your sales.  We have over 14,000 email subscribers and growing.  We have a large social media following to help you get exposure including Facebook, Pinterest, Instagram, Twitter, Reddit, and LinkedIn.  We are here to help you grow your business, and help endorse you, so you can share your gifts with the world. Click here to learn how to get your personalized profile with our basic package today.  We will help you get more exposure through the use of our Social Media, Organic website traffic, and email subscribers when you sign up for the Basic plus Support.  Contact us by filling out the contact form at the bottom of the page.
Offer Description
We offer 3 packages for Team Members.  The first package mentioned above includes a personalized profile and allows the professional to be found under a *search by expertise or name on Health Manifested.  The second package requires the personal profile package, in addition,  it allows the Team Member to submit 2 articles monthly with Search Engine Optimization assistance, Social Media exposure, and Email marketing.  The third package includes the personal profile package and allows you to keep your articles available through Health Manifested without submitting additional monthly content.  Please contact us to discuss what package(s) might best help you to reach your goals and be seen as an expert in your niche.
*The search by name and expertise feature found on the
home page
and
team member
and
professional
pages helps professionals get seen for their gifts, skills, and talents.  To become a professional
contact us
and tell us about yourself.   If you can give us a sample of what it is you do we would love to start supporting you on this journey. The
Basic membership
includes your own personalized profile with backlinks to your personalized social media such as Twitter, Pinterest, Facebook, Instagram, LinkedIn, and a backlink to your website if you have one.  It also includes a personalized photo, title, and description with 2 images of your choice. This also includes a contact form where customers can contact you directly via your email.
The image below shows the current traffic to Health Manifested.  As you can see in 28 days we had over 31,000 sessions, over 22,000 unique visitors, and over 128,000 page views.

In the image below you can see the PA (Page Authority) for Health Manifested is 32 with 369 links.  You can also see the DA (Domain Authority) for Health Manifested is 28.  The best you can have for any of these is 100 and companies that have 100 are companies like Facebook, Twitter, and Instagram.  Even LinkedIn doesn't have a perfect score.  They are ranked at PA of 89 and DA of 99.  Apple.com is ranked PA 92 and DA 100.  The point I am trying to make is a DA of 31 and a PA of 26 are very good for the niche and brand.  It is also ideal to have high-quality backlinks.  I have seen people's websites where they paid a company to create backlinks for them and they had 9,000 backlinks and a PA of 21 and a DA of 9.  This is an example of someone buying low-quality backlinks.  It is important to be a part of a website that supports your niche, topics, and brand and that is what we do with our memberships.  Health Manifested ranks for 109 keywords in positions 1-3 and 337 pages for keyword positions 4-10 and ranks for over 3000 keywords. We can help you build up your brand through our already high rankings in Google through the use of our Basic Membership and our Membership with Support.  If you choose to purchase the Membership with Support, we will guide in you creating high-ranking articles for your niche, goals, and profession and optimize the articles for search engines to find and help you.  Your article link to your profile, which has the contact form and social media and website to help people find you easily.

Building a website can be very time consuming and can take years to get exposure.  It can also be a large investment from purchasing your domain name, website hosting, design, e-commerce functionality, Search Engine Optimization, Email marketing, and more.  The basic membership as well as the other memberships are here to help you get exposure and grow your business faster.  If you have a website the Basic Membership will help you rank higher in Google faster because it provides a backlink to your website and social media.  The backlinks will increase your PA and DA.  You can also use the Basic Membership if you want exposure and don't have a website.  People can contact you directly through your Social Media links or through the contact form.
This can be the cost of going at it alone.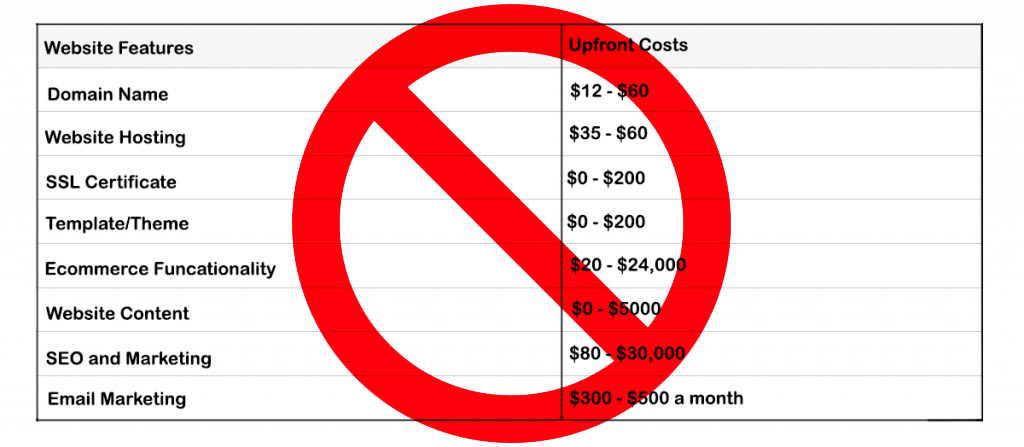 As you can see in the image above there are items you can acquire for free or choose not to include on your website.  SEO and Marketing are the keys to success in the online space, but it take can take years of experience or you can hire someone who doesn't know what they are talking about and get poor quality linkbacks that don't offer any value as mentioned previously.  I have had people pay me as much as $1000 a day to Search Engine Optimize their websites.  These membership packages were created to help you know what you are getting at a great price and you can see the quality for yourself.  Give it a try.
Did you know if you were to create content for a website, which is referred to as "Sponsored Content" the prices range from $500 to $750 per article?  If you were to write 3 articles for a website prices can range from $1000 to $1500.  With our Membership with Support, we are offering to promote 2 articles.  This also includes helping Search Engine Optimize the articles for only $150 a month.  This also includes some training on how to best write an article that will rank in Search Engines and share them on social media and in our weekly emails as they are published.
Being a part of Health Manifested can help give you that experience and professional connection on a reliable network with a large reach online around the globe.  Our biggest countries reach are the United States, Canada, the United Kingdom, Australia, and Germany.  Our largest reach in the United States consists of New York, Los Angeles, Chicago, and Atlanta.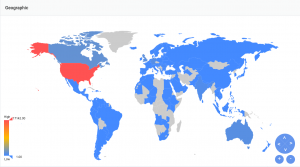 Get your own personalized Profile page with your website link back, Facebook link, Twitter, Pinterest, Instagram, and or LinkedIn on the Health Manifested website including a contact form where customers can contact you directly.  Backlinks are extremely helpful in getting your name out there and for building brand and website recognition.
Getting Exposure
The basic Membership initial setup fee is $200 and yearly renewal
Note: The profile will be listed on the website as long as the membership is active.
Why is this a desirable offer?  Quality backlinks are hard to come by and if you are in a business related to Human Design, Gene Keys, Tarot, Astrology, or a spiritual-based business this could really boost your ranking on Google.  Some people pay as much as $1000 for only 1 quality backlink, whereas our offer includes a profile where you can describe yourself and your company, share your social media links, and have a form where people can contact you directly from your profile.
Example Professionals here.  The Basic membership includes being listed on the Professionals page and the Professional Page associated with your niche and expertise.
Note: Joining our team does not guarantee any sales.  It is designed to help you get exposure and gain recognition for your talent/expertise.
If you are looking to grow your own business with or without this membership I would be happy to look at your website and give you advice.  After being in this business since 2011, I feel I have a lot of advice and tools I can offer.  I have training in various areas but prefer WordPress and CSS.  I specialized in Search Engine Optimization as well as Social Media marketing.   I have many tools tips and tricks up my sleeve.  If you would like to meet to introduce yourself as a possible Team Member/Professional or even meet to get some advice on how to improve your website I would love to meet with you.  I am happy to give you a free 30-minute consult.  If you are looking to join the team or be listed as a professional I like to see an example of your expertise.
Apply to be Featured on Health Manifested
Include your website and social media links if they apply.
Frequently Asked Questions
Domain Authority and Page Authority (DA/PA) are indicators developed by MOZ, a very respectable and reputable digital company, which predicts how well a page will rank in search engine results.
Links on websites other than your own that go back to a page on your website or social media. Backlinks are also called inbound links because they represent another website's traffic coming to your own site. The quality and quantity of your backlinks can help you rank higher in search engines such as Google and Bing.