Human Design Astrology View
On the Full Moon Lunar Eclipse in Scorpio, I was drawn to watch the movie "Space Jams: A New Legacy". This movie is a bit of a documentary on LeBron James.  This Full Moon Lunar Eclipse in Scorpio on May 5, 2023, has brought light to his work.  The Eclipse was close to his Saturn in Scorpio.  LeBron James has Saturn in Scorpio in his 6th house.  The 6th house is associated with a person's career, work, and health.
Saturn is the planet that is the great teacher and Scorpio is often seen as a sign of power.  LeBron James worked very hard (Saturn) in his career starting at a very young age.  Saturn teaches you to stick with something and for him, it was his career.  Saturn is also the ruling planet of Capricorn and his Sun, Jupiter and Neptune are in Capricorn.  In 2022 he agreed to 2 more years with the Lakers in the offseason that includes the option to play in 2024-25.  With this Full Moon Lunar Eclipse so close to his Saturn, we may see a change in his career.
In Human Design His Saturn is in Human Design Gate 14, which is the Gate of Power Skills.  This placement is often seen as someone who can always find work, and I am sure with this placement he will always find work.  The other work-related house in Astrology is the 10th house.  LeBron James has his 10th house as Pisces and his MC (Career) is Human Design Gate 55 conjunct his natal Mars in Gate 55.  Human Design Gate 55 is the Gate of Abundance and he is very successful.   Mars is the planet that is associated with Aries, which is connected to the body and he has used his body in his career (MC).
Pisces is a sign that can be very intuitive, great at visualizing, manifesting, and imaginative and is also the sign associated with meditation.  LeBron has a series "Train your Brain" on the meditation app Calm.com.  This is a great series and I am sure these are the techniques he used to be so successful in his basketball career.
There has been scientific proof that if you imagine something the body feels it and experiences it and believes it is if it is real.  There have been studies on Olympians who practiced in their mind instead of with their bodies and they performed better at events doing this.  This is what LeBron James has been here to show the world from what I can see in his chart.  He has Neptune in Capricorn in Human Design Gate 10, which is the Gate that is here to teach us how to love ourselves and our work.  Neptune is the planet that is connected to meditation.  It's really cool to see how his meditations are about visualizing (Neptune) goals (Capricorn).
Thoughts
He is a Gemini rising and Gemini is the mind, it is our thoughts, it is our words and his thoughts and visualizations in his career created his success along with the determination of Saturn in his 6th house and other placements.  LeBron was born with Mercury conjunct Uranus in Sagittarius.  This placement can create unexpected insights.  Sagittarius is all about beliefs.  He has Mercury in his 7th house which is associated with long-term relationships and contracts.  Uranus is the planet of shock and the unexpected.  He has probably had many times in his life where he had some unexpected contracts come up or was surprised by how he visualized what he wanted and it came to him.  Uranus is connected with Aquarius and Aquarius is his 9th house which is also connected with beliefs.
Venus and Value
LeBron has Venus in Aquarius in Human Design Gate 30, the Gate of Desires.  Venus is the planet that is associated with our values and material possessions.  I have a feeling he is amazing at manifesting his dreams/desires.  Aquarius is also the sign associated with large groups of people and virtual reality/TV and his 11th house which is the house connected with Aquarius is Aries and he plays basketball in front of millions of people.  This sign is virtual reality and Venus is the planet associated with love and LeBron James loved video games.
Family Dynamic and being a kid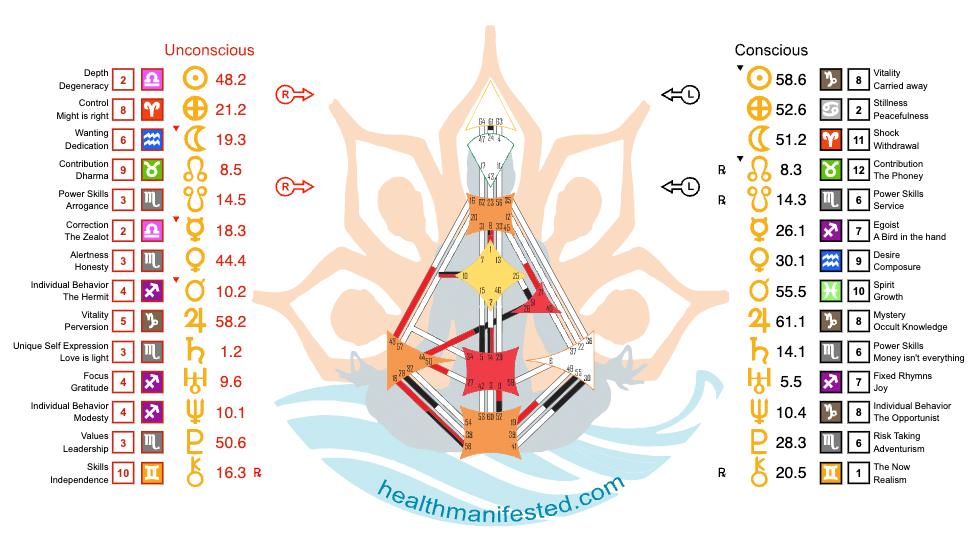 In the movie Space Jams, we see the father encouraging the sun to work hard at learning to play basketball.  The 9th house is often seen as the father in Astrology and the Sun is often seen as the father in Astrology.  His Sun is in Human Design Gate 58.6.  I often look at the next Gate when the Sun is on the cusp of 2 Gates because a person can play out the theme of both Gates. Human Design Gate 58 can be someone who really wants to have fun and bring joy in their life and is often said to be that person that was a happy baby and then life came along and they have to work to find their joy again.  Human Design Gate 38 can be fighting for something and is usually very encouraging and empowering.
LeBron has Jupiter in Human Design Gate 61.1.  That Gate is another line that is on the cusp of 2 Gates.  Human Design Gate 54.6 is right next to Human Design Gate 61.1.  Human Design Gate 54 can be very ambitious and Jupiter is the biggest planet and expands what it touches, so that has made him super super super ambitious.  Capricorn is also a sign associated with the father and his father encouraged him a lot to be very ambitious in his career.  He has his Sun, Jupiter, and Neptune in Capricorn.
Capricorn is the sign that is associated with work and career, this makes his career very important to him.  His Sun, Jupiter, and Neptune are all in his 8th house.  The 8th house is a lot of times where we can sacrifice for our relationships.  It is the house that is connected to our deep intimate relationships and I have a feeling people aren't fully aware of how much his work is for the people he loves and cares about.
In Astrology the Moon is often seen as the mother and you can see in this movie LeBron's wife (actress) in the movie plays out the mom's energy in his chart for their son, Dominick (actor) in the movie.  Dominick's mom said you need to let him have more fun and not be so hard on him. Aries is the first sign of the zodiac and it is often times seen as the sign that is innocent and childish because of that.  His moon is also in his 11th house which is the house associated with friends but can also. be representative of a person's wife.  And his wife wanted Dominick to have time to be an innocent kid and have fun.  His 5th house, which is the house that is seen as the house of kids is Libra and Libra is all about finding balance and rules.
The 11th house and the 5th house are opposite each other and his mom was saying that he needs to have more balance in his life between Aries the physical body/sports and Libra the rules around being a kid to allow his son to be more of a kid.  His son wanted to go to coding camp because he enjoyed building video games, but his dad said he can't back out of Basketball camp.  He said, "Dad you never let me do me".  This is an example of Libra as the 5th house.  A lot of rules around being a kid.  Libra is also a sign connected to love and he told his kid how much he loved him (Libra) and was so proud of him and the video game (Aquarius) he created.
We can see in the movie LeBron James really just wanted to play games as a kid at the beginning of the movie, but his father kept encouraging him to work toward his future and he did the same with his son in the movie.  His 9th house is Aquarius which is the sign associated with the future and the 9th house is the father his father said, you need to practice so you can be there for your family in the future.  He has Venus in Aquarius.  Venus is money and Venus in Aquarius can be future money.  His 2nd house which is the house that is often seen as the house of family and money and is the house connected with Venus is Cancer which is the sign associated with family.  This validates the message in this movie that his family encouraged him with his career because he was here to help his family financially with his future money.  Cancer is family and 2nd house is money and he the planet Venus that is associated with money is in Aquarius and he made money (2nd house) by having actors play out his family (Cancer) in a movie (Aquarius).
His North Node is in Human Design Gate 8 which is someone who often wants to make a big contribution to the world and he has made a big contribution to the basketball industry.  I do not personally know anything about him, but I can only imagine he has made many other contributions and will do more in the future with this placement.
Are you interested in learning more about your Human Design and Astrology?  Check out the services we offer or learn more.  Check out other Celebrity Mini Human Design Astrology Readings.