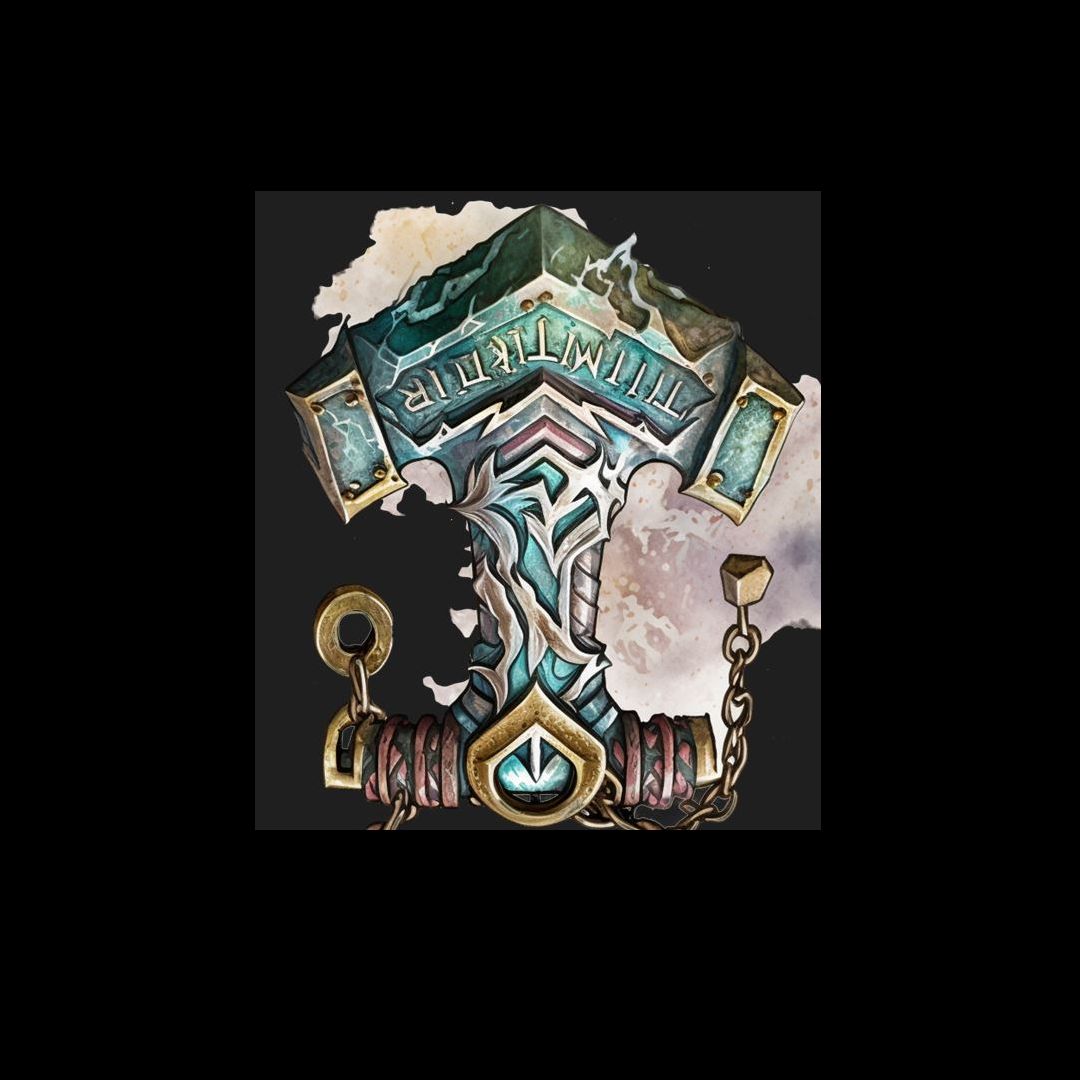 Tyr and the binding of Fenrir, the Wolf
Fenrir Wolf was one of the three children of the god Loki and the giantess Angrboda, along with the Midgard Serpent and Hela.
The Norse gods recognized the threat posed by Fenrir and its siblings. They brought the wolf to Asgard to keep a closer eye on him. However, the initially harmless wolf grew from day to day to such an immense size that the gods feared he would devour them. In order to bind him, two heavy chains were made, but the wolf broke them without any problem. Finally, the gods approached the dwarves, and they made the magic shackle Gleipnir.  This binding was made by the artful dwarves from the things that do not exist – like the sinews of bears or the saliva of birds and the sound that cat's paws make. Fenrir Wolf agreed to be bound with Gleipnir but demanded, as a pledge, that one of the gods put his right hand in his mouth and if he could not break the chain, he would bite off the hand.  No one would give himself up for this, except Tyr, the god of war. He put his right hand into the mouth of Fenrir, knowing that it would not get free.
And so it happened: Fenrir remained bound and bit off Tyr´s hand. Tyr the Warrior had given his sword hand to protect Creation itself and the Nine Worlds.
Teiwaz
There is one rune in the Elder Futhark that is tied especially to Tyr and that is the Teiwaz. Teiwaz is the rune of victory. More than that, however, it is the rune of the warrior spirit, the rune of keep going, the Nike symbol of the old days. It is the rune that says "go ahead and forge your destiny. You will pay a price, but it is worth it."
Movies have always been chock-full with heroes, even before Marvel and DC hit the scene. Every story in every book has a hero(ine). And every story about a hero(ine) ever told contains a message that we tend to overlook these days because it does not seem to be modern enough anymore.
One of my teachers summed up this message in one sentence.
"Hero is born in darkness, forged in battle and defined by their sacrifices."
That is what Tyr exemplifies for me. Tyr, the quintessential warrior gave up his sword hand –his physical prowess and strength that seemed so important for a warrior – and through this sacrifice, he became the very embodiment of what he seemed to lose. He sacrificed. Big time. Actually, I think he gave much more than what the story tells because aside from losing his hand, Tyr had to betray someone who trusted in his word. And he made all these sacrifices because he believed in something that was much bigger than himself. He believed this needed to be done to give the nine worlds of Norse mythology a fighting chance to survive and prosper.
How does that fit into our modern Zeitgeist that seems to glorify young internet millionaires who have made tons of money and spend their time jet-setting the world while they are barely out of college? After all, winning is so easy these days, right?
Well, maybe not.
For one thing, I believe that a lot of these self-made digital gurus pose with a rented Ferrari to sell you the very product that they want to get rich from – along the lines of "fake it till you make it."
I always hear a little alarm bell in the back of my head when I watch such YouTube videos of coaches, trainers, and funnelers. I call myself a coach and healer too, but you won´t see such videos from me. Guess what? I don´t have a Ferrari because I spent the vast majority of my life getting my own stuff together. That is, by the way, what qualifies me for my work. I´ve been there. I´ve been in the underworld of burnout and expression and that is why I know the ways out.
But back to Tyr and his message.
The moral of the story…?
So is it jealousy I feel when I watch these young hotshot digital millionaires? To some degree, yes, it is.  To a much greater degree, however, it is a question of what the heck happened to certain old-fashioned values. Make no mistake. I love the internet. I love the digital age. It opened so many doors for me that would still be closed if these were the 1980s or 1990s.
But my fear is that all these young guns with hot cars and hot companies make us feel inadequate when we cannot achieve what they have achieved. So, we lose faith in ourselves because we value ourselves by the fleeting standard of 'fake it till you make it'.  Because when it is all so easy, we must be losers if we cannot achieve the same, right?
Wrong!
We all define what success means for us personally. One guy's success may be another gal's dismay. What really defines is not the size of our bank account or the brand of our car. What defines us is something that cannot be seen or posted on Facebook.
What defines us – and our heroism and awesomeness – is how we deal with setbacks and what sacrifices we are willing to make for values we believe in.
I know someone – and I hope she will recognize herself in these lines – who is currently living the Teiwaz rune, who is currently sacrificing seriously for her dream. She is currently paying for her dream to build something that is not only a source of revenue but a way of helping people have a better life. She has been surrounded by people who do not believe in her.  That dream got her into financial troubles as well as personal ones.
And yet she is keeping the dream alive. When it was not an instant success, does it mean she is inept, weak, or wrong?
No!
It just means she is going through a process that is both normal and time-honored. We have just forgotten it in our world of making money digitally on the fast track.  She embodies Tyr and Teiwaz without even knowing it.  She is following the path "go ahead and forge your destiny. You will pay a price, but it is worth it."
"Hero is born in darkness, forged in battle and defined by their sacrifices."
We don´t want to hear that but (un)fortunately it is the truth.
And that is the core of Tyr´s story: You need to give some so that you gain more than you could ever imagine. Sacrifice and you become a person who commands loyalty and respect without the physical trappings of a mansion or a sports car. Surround yourself with inner values and inner strength rather than with things.
Because in the words of our Viking ancestors: "It is better to be without silver than without honor."
I see a lot of people who walk through life financially more or less well-off.  Still, they are full of insecurities, a need to prove themselves to others by behavior that ranges from hysteric to neurotic. Even though they are financially reasonably secure.  Often it turns out that these people could use a good dose of Teiwaz energy to find an inner strength they did not even know they possessed.
And more often than not that is all it takes to solve their real issues.
A secret? Yes!
Difficult? No!
Just Teiwaz It!
https://www.instagram.com/idunasapples/
https://www.facebook.com/marco.mueller.359
https://www.pinterest.de/harvest1410/