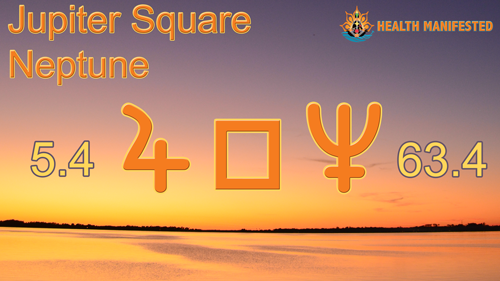 January 14, 2019 Jupiter is at 14° of Sagittarius in Human Design gate 5.4 squaring Neptune at 14° of Pisces in Human Design Gate 63.4.  This is a good time to open up your imagination.  We can be overly optimistic during this time.  Do not overextend yourself.  The goals you make be may be overly ambitious and not practical, but we have a huge imagination during this time.  There is no limit to our imagination.
Jupiter Squared Neptune on June 16, 2019, and will have its final square for 2019 on September 21, 2019.  There is something you have been going through where you need to trust or let go of and expectations you have had.  During this final square, there can be solutions
Other dates for Jupiter Square Neptune
January 13, 2019
June 16, 2019
September 21, 2019
June 18, 2025
January 11, 2032
October 12, 2037
January 2, 2038
June 16, 2038
Are you interested in learning more yourself or how these transits affect you on a personal level?  Check out our products page to learn about the different types of readings we offer.
Click here to learn more about other Human Design Gates. or see other transits. Also, make sure to get your Free Human Design chart to take on your journey through the exciting world of Human Design.