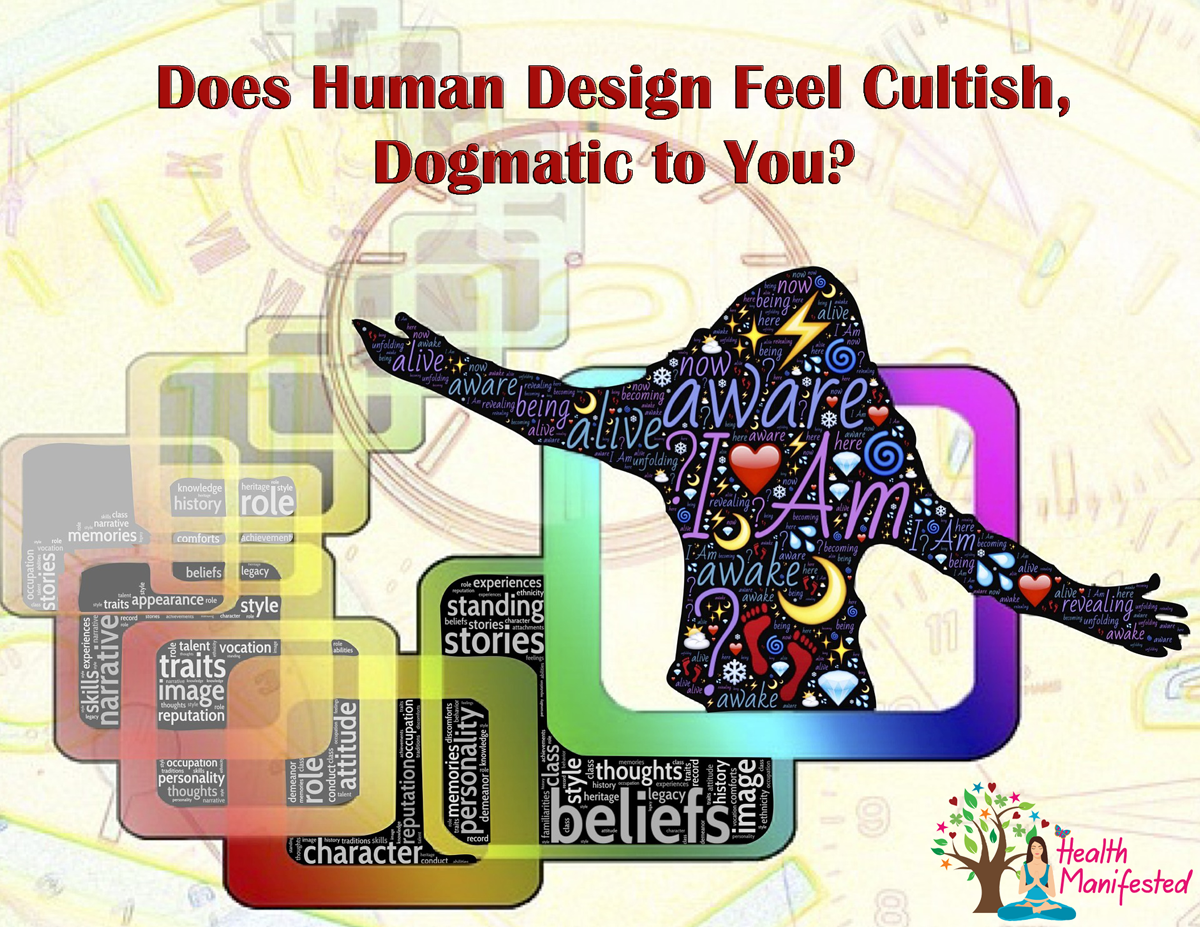 The question "Is Human Design a Cult and Dogmatic" has come into my awareness 3 times this week. The third time is always a spark for me to look at what is coming up in my awareness.
A cult is defined as a group of people with extreme dedication to a certain leader or set of beliefs or ideals.
Dogma is defined as a principle or statement of ideas, or a group of such principles or statements, especially when considered to be authoritative.
Before I delved into the rabbit hole of Human Design I was already aware of the false claim of scientific statistical proof of the system and also how the system had changed from its original transmission. I had not come across anyone stating that Human Design is a cult or dogmatic at that time.  However, given access to a Library of Ra's lectures, I dove in and I went deep. I have a 3rd color desire mind and 6th color personal view just like Ra had. I am a 3/5 and when I learned how Ra came to know my profile, through his personal experience with the people in Ibiza, I understood why he called it the Martyr/Heretic, though it is not my own personal experience of this profile. Then when I learned that all of what's written on the surface of Human Design is based on the not-self, it made so much sense as to why I didn't relate to the Martyr heretic and other aspects of Human Design. Oh, I can totally see it in those who are not in alignment within themselves, of course, then the mechanics really shine through. However, there are many of us that do live as ourselves, in alignment, and then try to pigeonhole ourselves into these not-self definitions.
There are so many good nuggets in Human Design that Ra brought to us and for that, I am very grateful for him and for Human Design! So many lectures I've heard him express things that many don't have privy to and therefore don't know, for example, that he loved those students who did not regurgitate what he said. I've learned from several other teachers who worked directly with Ra, including Steve Rhodes, Chetan Parkyn, Zeno, and Karen Parker.
Human Design is conditioning us, though, especially because it's missing the extra calculations that have the scientific statistical proof of the Human Design System. Ra decided not to use them after all, what to do. You can read my Intro to Multidimensional Human Design article.  Personally, I use the Post Solar Layer with my clients, you can read about it here, which sometimes shows a different definition. Time and time again I see this and each time the full Mental World chart completes what's missing in our Waking Conscious World. So, if you are a Reflector or Projector in your regular Human Design chart (learn about the Types here) but a Manifestor, Generator or Manifesting Generator in your full chart and it resonates with your actual life experiences, then you've been conditioned by traditional Human Design to be something you really are not. Not everyone's chart changes by adding that 1, of 8, extra calculations, though.
I invite you to be playfully curious and see if adding the Post Solar Layer to your Human Design chart resonates with you.  Make sure to also check out more BEyond Human Design here. Would you like to purchase a Session?  If so we can help you schedule a session.