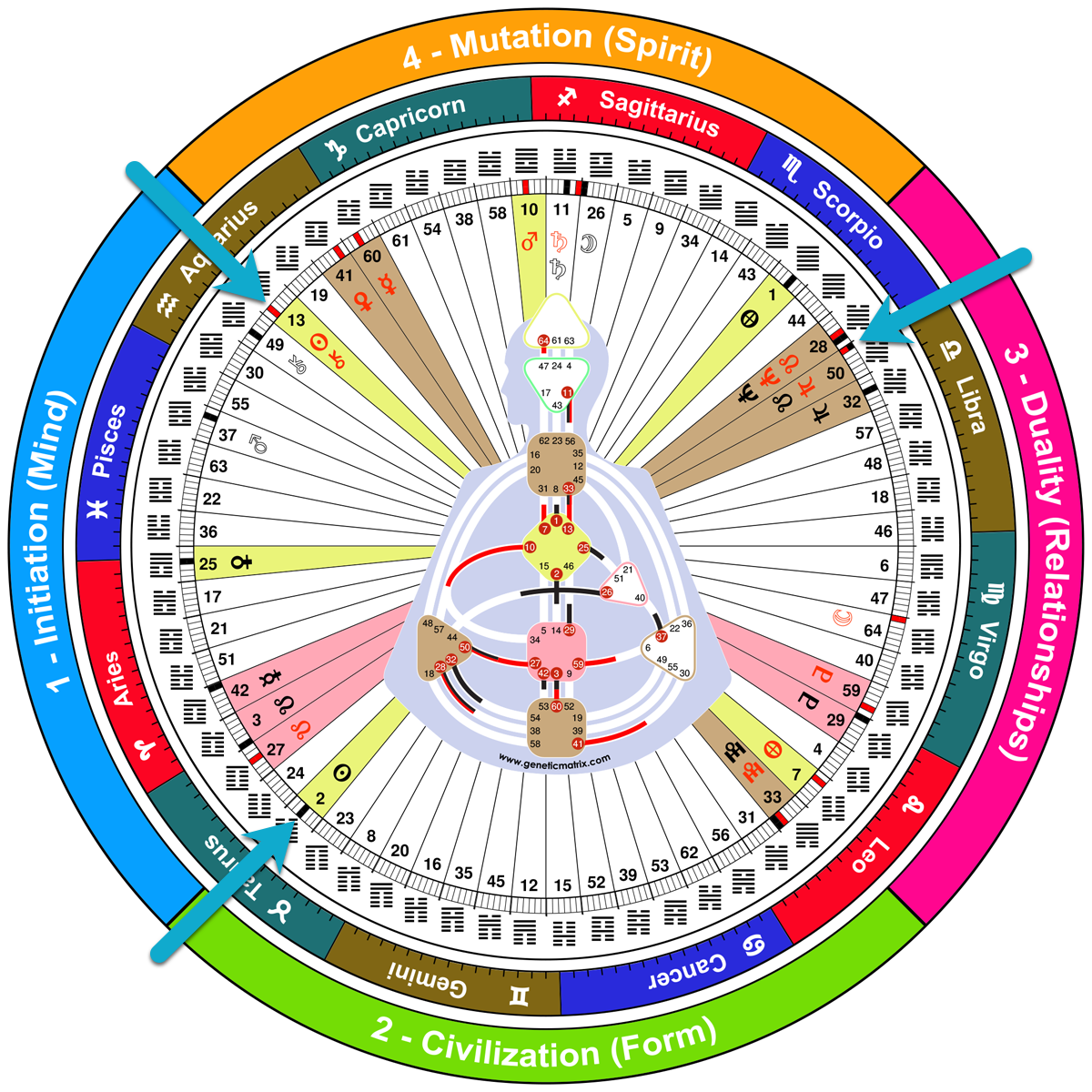 The Human Design Mandala on Genetic Matrix now shows the Human Design Gates with lines.  You can see in this example chart that the conscious Sun is in Human Design Gate 2.3.  The black line indicates it is a conscious Gate and the 3rd line is filled in to represent Human Design Gate 2.3. Another example of the Human Design Mandala with the lines is the unconscious Sun and Unconscious Chiron in Gate 13.5.  The red line represents the Gate and the line are unconscious and the 5th line is filled in red to represent the 5th line.  Another example is seen where the arrow points to Human Design Gate 50.6 on the Human Design Mandala.  You can see it shows Red and Black.  This indicates this person has the unconscious Jupiter (Red) in Human Design Gate 50.6 and the Conscious North Node (Black) in Human Design Gate 50.6.  As mentioned above the Black represents the Gate is conscious and the Red represents the Gate is unconscious.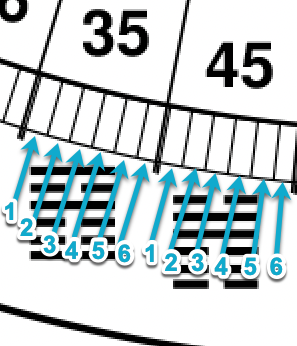 The Human Design mandala moves counterclockwise.  The first segment represents line 1 and the segments next to it represent each of the lines.  Each Gate starts with line one and ends with the sixth line and increments into the next Gate and starts again with Line 1 and moves through line 2, line 3, line 4, line 5, and line 6 and starts over again with the next gate.  This is shown in the image to the left using the example of Human Design Gate 35 and Human Design Gate 45.  You can also see this on the full Human Design mandala image at the bottom of the mandala in the Gemini section.
If you would like to learn more about Human Design Lines you can learn more here.  You can also learn about the Human Design Gates here.  Make sure to also check out other Human Design charts Genetic Matrix offers.