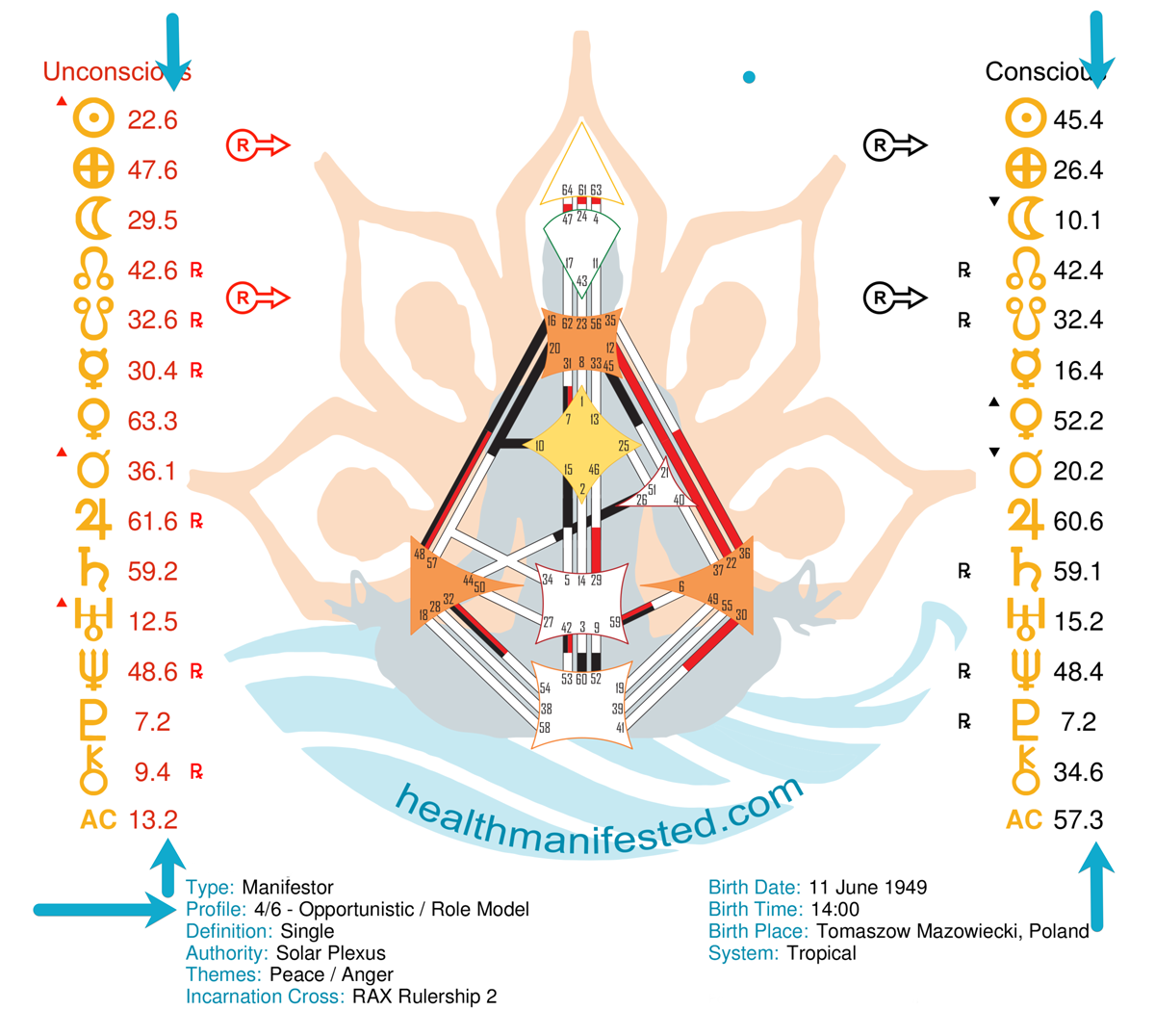 Below is a list of the 6 lines in Human Design.  There is what we call Human Design Line 1, Human Design Line 2, Human Design Line 3, Human Design Line 4, Human Design Line 5, and Human Design Line 6.  You can find out what your predominant Lines are by looking at your "Profile" in the Human Design chart.  You can get your Free Human Design chart here.  The line is found after the Gate.  The example to the right is a 4/6 Profile.  This is based on the Conscious Sun in Gate 45.4 and Earth in Gate 26.4.  The ".4" indicates the person is a Line 4 profile.  It is the 4 in the 4/6 Profile.  The 6 line can be seen in the unconscious Sun 22.6 and the Unconscious Earth 47.6.  This is the 6 in the 4/6 Profile.  You can find the other line placements for each of the planets by looking at the Gate. line next to each of the planet symbols.
Line 1 – Investigator
The first line can be self-centered.  They are here to learn to try to serve others.  They enjoy investigating things.  The first line enjoys being creative. They want to be a master, but they master something when they truly enjoy it and want to master it.  They are designed to be self-motivated.
Line 2 – Hermit
This can be someone who is trying to find fulfillment through others and can feel disappointed or feel let down by others.  They have the potential to feel resentment towards others.   They often learn to let go of a need for being fulfilled in their relationships because they don't feel fulfilled in relationships.  They can feel like their relationships test them.  They can be private and keep to themselves. They often look outside of themselves to find happiness when they need to spend time alone and usually learn to be happy by themselves.  Over time they learn to enjoy their own company.  They can feel as though they are gliding through life.  They often don't need training.  They often find things that come naturally to them.  They usually enjoy sharing their passions with others.
Line 3 – Martyr
The third line often has secrets.  They can care a lot about what others think of them and seek approval from others.  They can be seen a somewhat of a rebel.  They can be great at stirring things up and enjoy experimenting, seek adventure, and change.  They evolve through change and often enjoy change.  They like to learn as they go.
Line 4 – Opportunist
They can have a lot of opportunities in their life.  They have the potential to exaggerate.  They can have huge transformations in their life.  They are usually very loving and enjoy having a community, connecting with others, and offering services, and serving others.  They are here to learn about giving love without expecting anything back.  They have the ability to transform society through love.   They are usually very friendly.  It is important for them to love what they do.
Line 5 – Heretic
They can pretend to be stronger than they really are or question their strength.  They can have a hard time believing in themselves and need to believe in themselves.  They have the potential for misunderstandings and need to be clear.  They can be vulnerable and that makes them powerful.  They can be very practical and efficient.  It is important they are authentic with themselves and others.  They are here to learn to be kind, generous, and can be a great leader.  They can be great at fixing things and finding answers and simple solutions.  They can be great at organizing facts, information, and people.  They have the potential to overpromise.  They can have a lot of projection and get swept up into other people's ideas of who they are.
Line 6 – Role Model
The sixth line can give up on their dream and stop believing in themselves and settle.  They are designed to dream big, believe in the magic of life, and believe in something bigger than themselves.  They need to open up their mind to their potential possibilities.  They can help others believe that anything is possible.  They teach we can change and evolve and want to change the world.  They like taking things to the next level.  They are often future-minded and think outside the box.  They usually work their way up from the bottom and build things over time.  They make great teachers and want to educate people.  They often times strive for perfection.  They go through phases in life and usually feel like they are stuck in their 30's and can have amazing opportunities later in life.  They are here to learn to surrender to what life brings them, be patient and enjoy the phases of life.
You can find more free Human Design resources here or purchase your Human Design report to learn a lot about your chart.