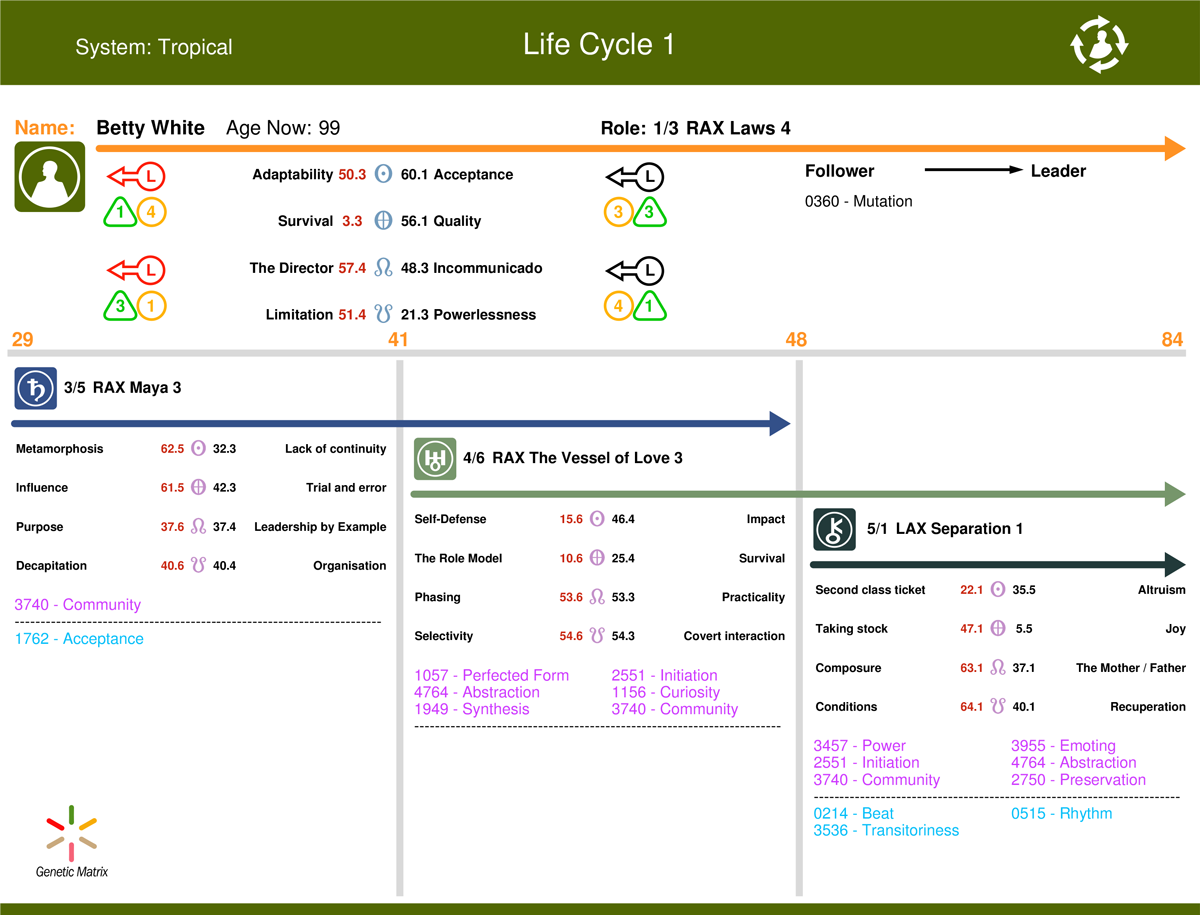 Did you know you can get Life Cycle charts on Genetic Matrix?  The Life Cycle Human Design chart shows the Incarnation cross and nodal placements at a person's Saturn returns, Uranus opposition. and Chiron Return.  This chart is really convenient to see a person's overall life experience.  It also sums up the big transits in a person's life.  You can also get full Saturn Return charts, Uranus opposition charts, and Chiron Return charts also.  If you want to see the theme your Chiron brings, you can also get your Free Human Design chart with Chiron's placement.
Life Cycles
Saturn returns are when Saturn returns to the place it was when you were born.  Saturn is called the great teacher.  The Saturn return can be challenging if you haven't learned the lesson Saturn was designed to teach you.  Saturn returns happen around 28 or 29 years old.  Uranus is the planet that brings about unexpected news and shakes things up. Uranus returns are around the age of 40 and this is what people are usually referring to when they say someone is going through a midlife crisis.  This transit can bring about unexpected events.  Chiron returns are usually another tough transit.  This is when Chiron returns to the place it was when you were born.  This usually happens around 49 or 50 years of age.  Chiron is where we have some wound in our life.
Knowing life cycles and returns in advance can be helpful in preparing for these big events and having an awareness is also very helpful.
How to use the chart
An example of how to use the Life Cycles chart is to look at each of the Incarnation Crosses for each of the Cycles.  For example, Betty White's Uranus Opposition was in the Right Angel Cross of Vessel of Love 3.   When someone has this Incarnation Cross they are designed to be in the right place at the right time and have a love for the physicality of life. They are here to embody love in all facets of life and to find love for themselves. They are an example of love for others.  So during this cycle, she would have had lessons around trusting she was in the right place at the right time.  She would have been learning about loving her body and who she is.  She would have been learning about loving herself just as she is and would have been a shining example of how to love yourself.  I would also recommend looking at each of the Gates that play out. For example in her Uranus opposition, the Sun was in Gate 46, which can be very determined, so she may have been more determined during this time.  You can look at each of the Gates and see how they play out and look deeper into each Return chart to learn more about how that cycle plays out.
Life Cycles and Incarnation Crosses
I have been asked, during a Life Cycle, does your Incarnation Cross change?  No, your Incarnation Cross does not change.  Your Natal Incarnation Cross will always be your life theme and Incarnation Cross.  The Life Cycles are Cycles and the Incarnation Cross will play out during that Cycle of your life only, but your overall theme will always be your Natal Incarnation Cross found on your birth chart.  The Placement of the planets in the cycles will be a constant theme in your life though.  It is helpful to look at your Saturn placement, Chiron placement, and Uranus placement to learn about the themes and lessons those planets are here to teach you.
If you are interested in looking at Human Design from the eyes of an astrologer or want to look at Human Design from an astrology perspective I would highly recommend checking out more articles on Genetic Matrix to learn more. Genetic Matrix offers a Human Design Calendar, a Human Design Astrology Wheel, HD Astro (Human Design Astrology Chart Gene Keys chart and in multiple foreign languages. If you want to learn more about Human Design and the Human Design Gates you can learn more here.