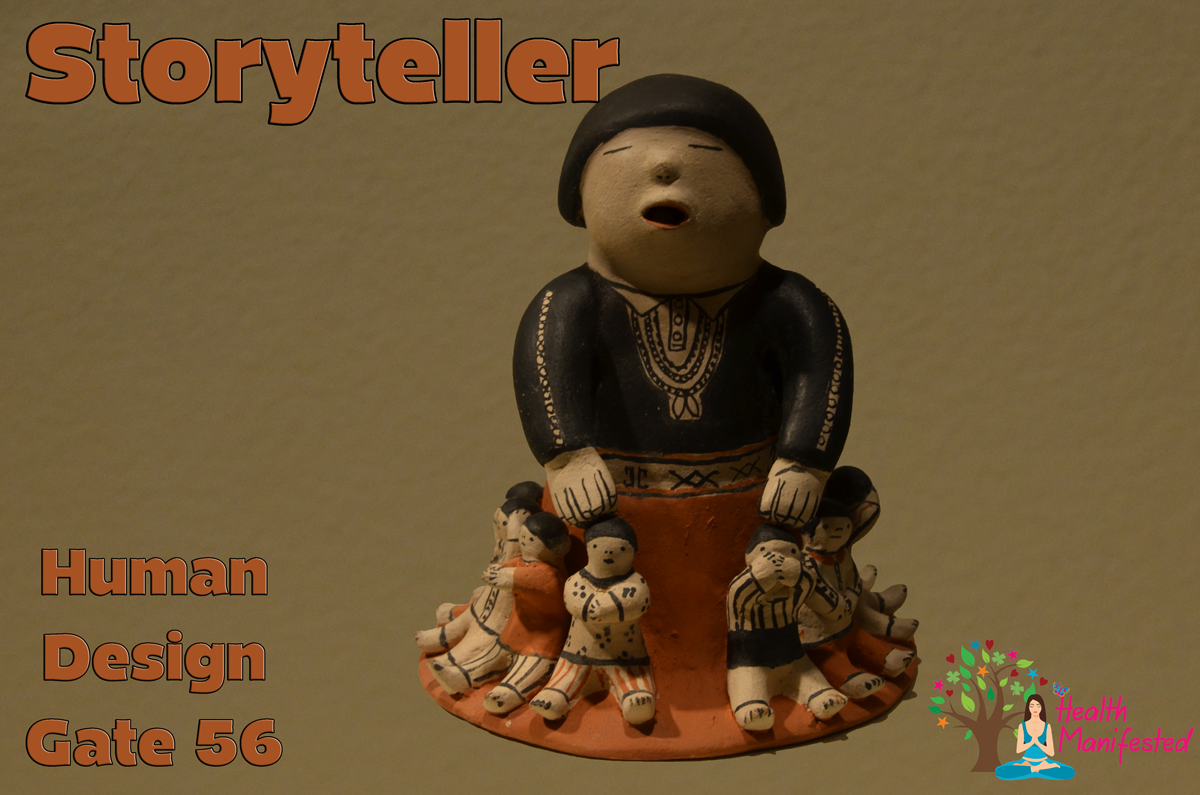 While a planet is transiting in Human Design Gate 56 also known as Gene Key 56 I want to ask you, where have you been overstimulated or distracted? How have you been conditioned by the world around you? What do you really want out of life? What are your dreams outside of what others have taught you to believe or think? Are you really seeing the world as it is or are you seeing it as you want to see it? Make sure to check in with yourself this week. There is a potential to become overstimulated with everything around you. Take time to meditate and look within and remember to get the most out of every experience, enjoy every moment.  Human Design Gate 56 asks you to share these moments and experiences with the ones you love.  What stories are you telling yourself and others?
Gate 56 Keywords
Storyteller

Overstimulated

Enjoy Experiences

Distracted

Wander

Traveler

Grumpy

Talker
Human Design Gate 56 Lines
Gate 56.1 stimulation and quality

Gate 56.2 stimulation and linkage
Gate 56.3 stimulation and alienation
Gate 56.4 stimulation and expediency
Gate 56.5 stimulation and attracting attention
Gate 56.6 stimulation and caution
Human Design Gate 56 Astrology Sign and Degrees
Gate 56 26º22'30" Cancer – 02º00'00" Leo
Gate 56.1 26º22'30" Cancer – 27º18'45" Cancer
Gate 56.2 27º18'45" Cancer – 28º15"00" Cancer
Gate 56.3 28º 15'00" Cancer – 29º11'15" Cancer
Gate 56.4 29º11'15" Cancer – 00º07'30" Leo
Gate 56.5 00º07'30" Leo – 01º03'45" Leo
Gate 56.6 01º03'45" Leo – 02º00'00" Leo
If you like to follow along with the Gene Keys, Human Design Gate 56 is the same energy as Gene Key 56.
Get your free Human Design Gate 56 Journal
Would you like to learn more about your Human Design chart or Astrology Chart?  If so, check out our products and services here. I offer a really cool Human Design Report where you will learn a lot about your Human Design.
Click here to learn more about other Human Design Gates.  Also, make sure to get your Free Human Design chart and Free Astro Gene Keys chart to take on your journey through the exciting world of Human Design and Gene Keys.
Would you like to get a Human Design reading?  If so, reach out to one of our Human Design professionals.  If you're a Human Design professional, Gene Keys professional, astrologer, psychic, or have another profession and would like to get more exposure, let's team up.