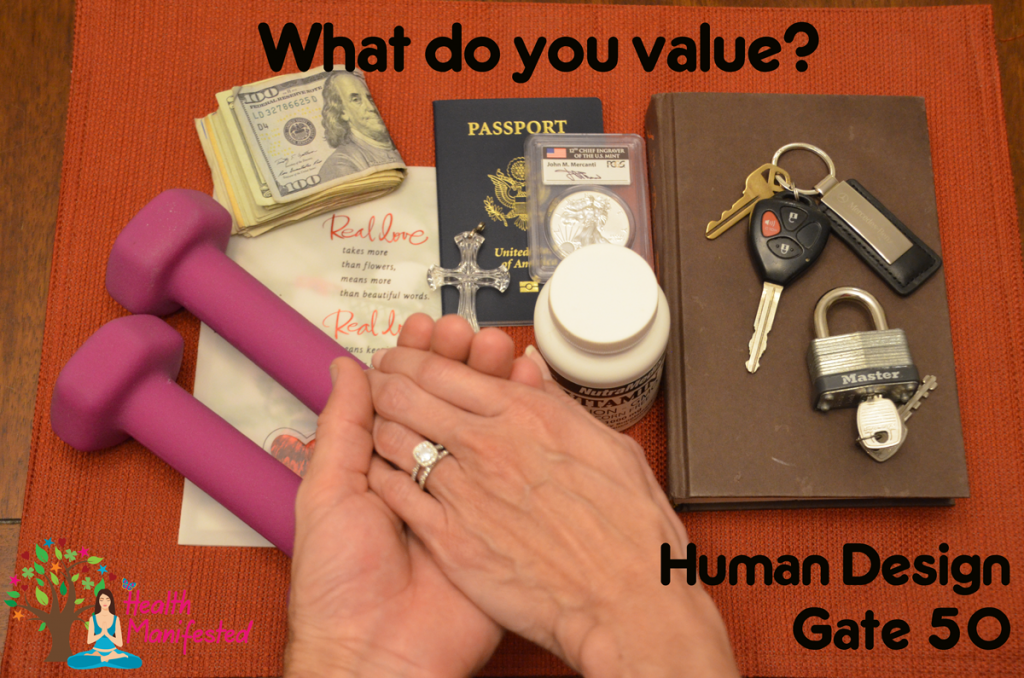 While a planet is transiting in Human Design Gate 50 also known as Gene Key 50 take some time to look at what is valuable to you.  A couple of years ago I had a friend call me and tell me that her business partner took 15 of her clients and opened the same business right next door to hers. Greed can lead to the low expression of Human Design Gate 50, which is corruption. In a high expression, we can create harmony through trust. It is important to surround yourself with people who have common values and beliefs and support the ones you love and value. We may not be aware of it, but we attract our tribe. It is best to look at what and who is truly valuable to you. It is a great time to take some time out to look at what you really value, who you really value and who you see yourself to be and intentionally attract people of common values into your life.
Gate 50 Keywords
Values

Beliefs

Harmony

Equilibrium

Irresponsible

Fear or Responsibility
Human Design Gate 50 Lines
Gate 50.1 values and the immigrant

Gate 50.2 values and determination
Gate 50.3 values and adaptability
Gate 50.4 values and corruption
Gate 50.5 values and consistency
Gate 50.6 values and leadership
Human Design Gate 50 Astrology Sign and Degrees
Gate 50 26º22'30" Libra – 02º00'00" Scorpio
Gate 50.1 26º22'30" Libra – 27º18'45" Libra
Gate 50.2 27º18'45" Libra – 28º15"00" Libra
Gate 50.3 28º 15'00" Libra – 29º11'15" Libra
Gate 50.4 29º11'15" Libra – 00º07'30" Scorpio
Gate 50.5 00º07'30" Scorpio – 01º03'45" Scorpio
Gate 50.6 01º03'45" Scorpio -02º00'00" Scorpio
If you like to follow along with the Gene Keys, Human Design Gate 50 is the same energy as Gene Key 50.
Get your free Human Design Gate 50 Journal
Would you like to learn more about your Human Design chart or Astrology Chart?  If so, check out our products and services here. I offer a really cool Human Design Report where you will learn a lot about your Human Design.
Click here to learn more about other Human Design Gates.  Also, make sure to get your Free Human Design chart and Free Astro Gene Keys chart to take on your journey through the exciting world of Human Design and Gene Keys.
Would you like to get a Human Design reading?  If so, reach out to one of our Human Design professionals.  If you're a Human Design professional, Gene Keys professional, astrologer, psychic, or have another profession and would like to get more exposure, let's team up.