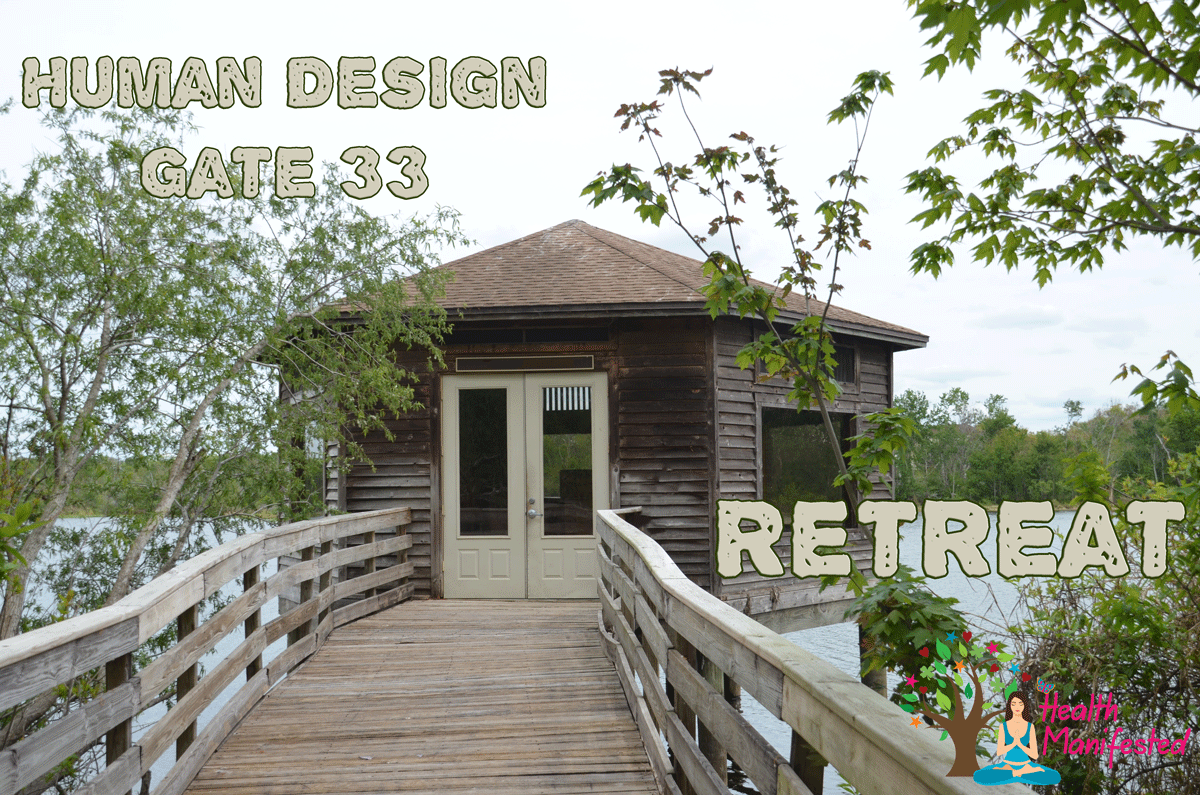 While the Sun is in Human Design Gate 33 also known as Gene Key 33 we are more likely to go inward, become more private, or feel more alone. This is a great time to meditate.  See where you have created painful experiences in your life. Bee open to a new way of looking at life.
While the Sun is transiting in Human Design Gate 33 you have the potential to see continuing patterns in your life and can use this time to come up with ways to improve your life and become more in alignment with your heart's desires. This is a great time to let go of the past and live in the now.  Allow yourself time to retreat and set intentions for what you really want.  Transcend old patterns and create a life you love.  See the possibilities.
Human Design Gate 33 can repeat the same patterns or retell the same stories.  As we were in Gene Key 31.6 approaching Gene Key 33 I decided to start creating articles for the Gene Keys to help people who are more interested in the Gene Keys interpretation I created an article for Gene Key 31 and then I realized I was living out the energy, repeating the same pattern and telling the same story.  I started feeling like I was repeating myself and have decided for now not to create Gene Keys articles, but to use the articles I wrote in the past to keep telling the stories of the Human Design Gates/Gene Keys.  You can compare the Human Design Gate 31 article and see they are very similar.
What narratives do you keep telling and repeating?  Look at the stories you want to create for yourself.  What patterns are you ready to let go of?  Human Design Gate 33 can be forgetting things.  Have you forgotten who you really are and what your heart really desires?  This can be a good time to step back and look at what your heart really desires.
If you like to follow along with the Gene Keys, Human Design Gate 33 is the same energy as Gene Key 33.
Would you like to learn more about your Human Design chart or Astrology Chart?  If so, check out our products and services here. I offer a really cool Human Design Report where you will learn a lot about your Human Design.
Click here to learn more about other Human Design Gates.  Also, make sure to get your Free Human Design chart and Free Astro Gene Keys chart to take on your journey through the exciting world of Human Design and Gene Keys.
Would you like to get a Human Design reading?  If so, reach out to one of our Human Design professionals.  If you're a Human Design professional, Gene Keys professional, astrologer, psychic, or have another profession and would like to get more exposure, let's team up.