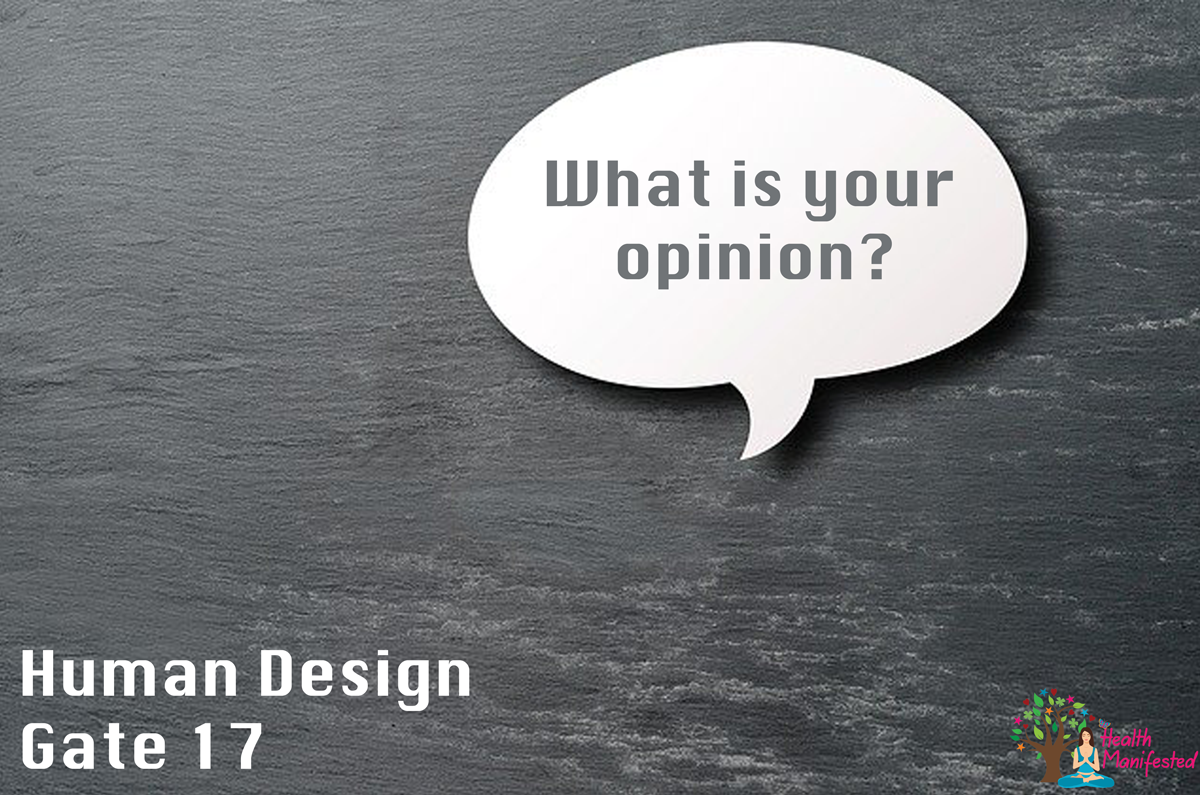 While the Sun is transiting in Human Design Gate 17 also known as Gene Key 17 we can be more opinionated.  We have the potential to take our opinions more seriously than normal.  We can really be opinionated in our worldview and be more serious.  All these opinions can make us feel a sense of dissatisfaction and really defend our opinions.  We can also be opinionless or feel like our opinions don't matter.  We can also be more critical of ourselves and compare ourselves or our situation to others.
While Human Design Gate 17 is transiting it is highly recommended to let others' opinions be.  It's ok to have conversations as long as you let them just be conversations without getting angry if someone doesn't have the same opinion as you.  We all have opinions and we can find flaws in anything.  This is a good time to practice acceptance.  In a high expression, we can use this energy to reconstruct something for the better.  What in your life are you ready to reconstruct?  What opinions are you holding on to?  Where are you being critical?  Can you be more accepting?  Trust in the bigger plan.  What is your opinion?
Human Design Gate 17 energetically connects with Human Design Gate 62 to create the channel of the Organizer.
Gate 17 Keyword
Dissatisfaction

View of the world

Opinions-Serious

Defensive

Reconstruct

Acceptance
Human Design Gate 17 Lines
Gate 17.1 opinions and openness
Gate 17.2 opinions and discrimination
Gate 17.3 opinions and understanding
Gate 17.4 opinions and the personnel manager
Gate 17.5 opinions and no man is an island
Gate 17.6 opinions and the Bodhisattva
Human Design Gate 17 Astrology Sign and Degrees
Gate 17 03º52'30' Aries – 09º30'00" Aries
Gate 17.1 03º52'30' Aries – 04º48'45" Aries
Gate 17.2 04º48'45" Aries – 05º45'00" Aries
Gate 17.3 05º45'00" Aries – 06º41'15" Aries
Gate 17.4 06º41'15" Aries – 07º37'30" Aries
Gate 17.5 07º37'30" Aries – 08º33'45" Aries
Gate 17.6 08º33'45" Aries – 09º30'00" Aries
If you like to follow along with the Gene Keys, Human Design Gate 17 is the same energy as Gene Key 17.
Get your free Human Design Gate 17 Journal
Would you like to learn more about your Human Design chart or Astrology Chart?  If so, check out our products and services here. I offer a really cool Human Design Report where you will learn a lot about your Human Design.
Click here to learn more about other Human Design Gates.  Also, make sure to get your Free Human Design chart and Free Astro Gene Keys chart to take on your journey through the exciting world of Human Design and Gene Keys.
Would you like to get a Human Design reading?  If so, reach out to one of our Human Design professionals.  If you're a Human Design professional, Gene Keys professional, astrologer, psychic, or have another profession and would like to get more exposure, let's team up.