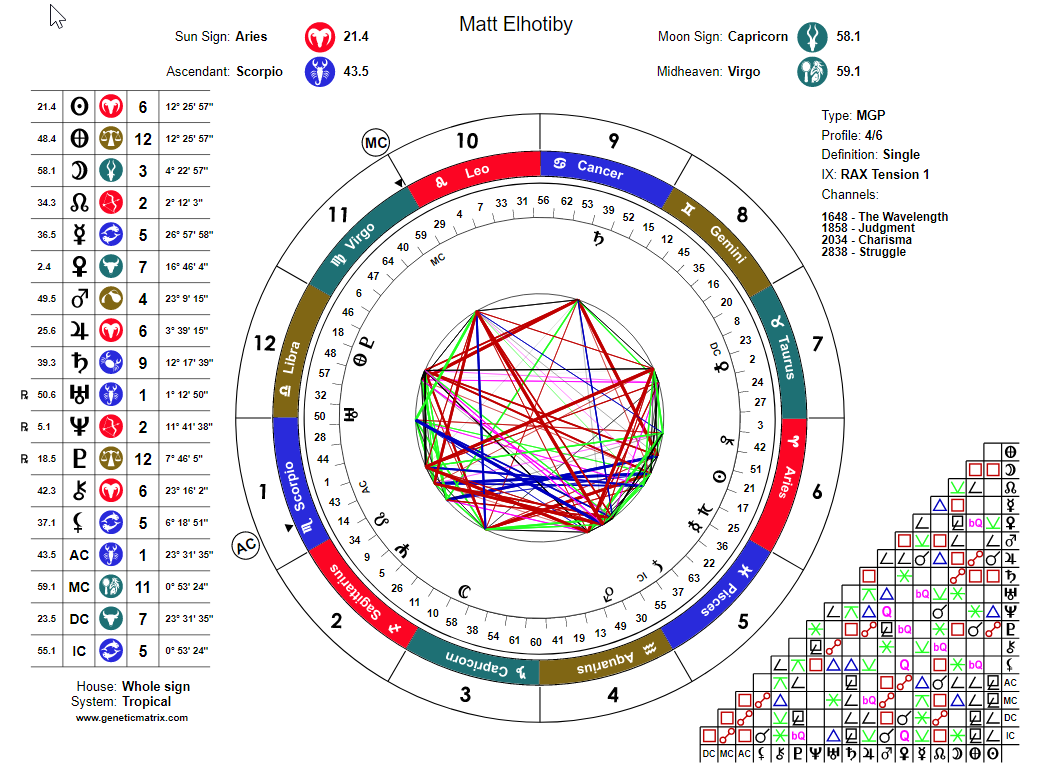 For those of you who like to think outside of the box, or maybe a rebel of sorts and like to integrate different astrology systems, you may really enjoy the Human Design Astrology Wheel.  I have been working with Genetic Matrix to develop a Human Design Astrology wheel.  I am an Astrologer and Human Design Specialist and I like to incorporate Gene Keys into my readings.  There is also a transits chart that shows the transiting planets and houses.  There is also a Body/Unconscious version of the chart in the works as well as a relationships/connection chart.   The chart has the Gates and Lines of Human Design incorporated with the aspects of astrology with the degrees, minutes, and seconds.  It has the signs and the houses.  You can also use whichever house system your heart desires.  It even has the Human Design chart on it.  This is really the best of all worlds.  You can also select a specific planet and see the different aspects the planet is making to other gates and lines.  We are entering the Aquarian time and Aquarius is a sign that likes to do things in new and different ways.  Aquarius is future-minded.  Welcome to the future of Human Design and Astrology.  Make sure to sign up for the membership service.  There is so much more to come.
It's online so you can access it from anywhere.  Staying in Fiji for 3 months?  It's there with all the other Human Design tools.  Not a Human Design Specialist?  It's ok, all the tools you would ever need are there at your fingertips.  This software is so accurate.  Many software place the MC and Ascendant symbols inside of the wheel and with this chart it is placed outside of the wheel to give it more accuracy.  Want to use the degrees?  They are there?  Want to see the correlation between the degrees and the gates and lines?  It's there.  It is really the best of both worlds.  Make sure to sign up to see all the charts.
Make sure to check out our Human Design Astrology Transits page to see how I incorporate Human Design and Astrology.
Are you interested in learning more yourself or how these transits affect you on a personal level?  Check out our products page to learn about the different types of readings we offer.
You can also get your free Human Design chart here.
I would also recommend checking out tother features Genetic Matrix offers here.  You can also learn more Human Design Basics and learn about the Human Design Gates.