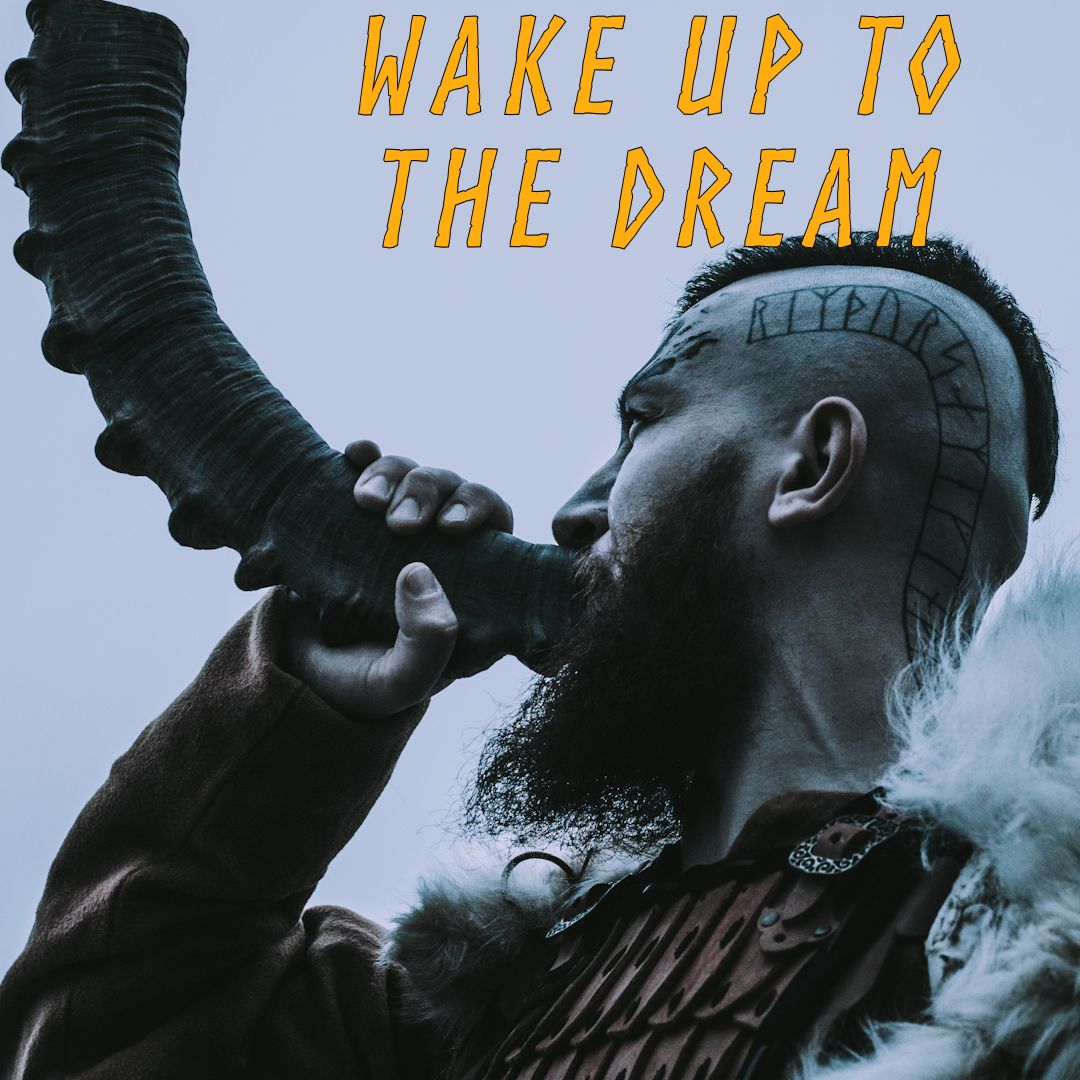 When you read "How to create (your) destiny it might read like a toolbox full of life hacks to get the life you want.
Well, it is exactly that.
It´s the How To be happier and live a more fulfilled life where you live by your own choices rather than other people´s choices. How to walk the road to the fulfillment of your own dreams rather than other people's dreams.
But every tool is the wrong one if you don´t know what you want to create.
So let´s first talk about the dream.
Dreams are sunken treasures
For some, the dream of what their destiny is may be very clear. They know exactly what they want to create in their lives and only need the tech manual how to do it. They take the toolbox of life hacks (I´m going to delve into during the next few blog entries), pick the power tools they need and go about creating their vision.
Others, like me, struggle with the idea to figure out what they are here for much less how to reach their destiny. The first roadblock you are going to hit on this journey is the difference between a goal and destiny or if you are tired of this word now – a purpose. We are all purpose-driven, purpose-seeking individuals and there is a big difference between setting a goal and pushing towards a goal to achieve it simply because it was set as opposed to seeing and understanding the higher purpose behind that goal. This purpose is not what we are told we should do or even what we think we are supposed to do, it is the calling beyond the "should" and "supposed to" that conditioned us to build a life around the expectations we have been taught to fulfill.
It boils down to the question: Why do we want something? It is that WHY that will compel us and pull us naturally towards a goal rather than push us towards something that we think we are supposed to do and should do.
We get tons of messages from all around us, from family, society, schools, friends, life partners, colleagues, bosses, media, etc so it is really, really, really easy to get lost and bury our true desires under this ton of input. As much as I love all the privileges of the digital age, living in a global village and being hooked up to the whole world 24/7 does not help the case of finding one´s own voice and listening to it. Another part of the vicious circle is that we have things we feel we want or want a certain outcome for ourselves, but we do not believe these outcomes are possible, so we stop thinking about them. It hurts us too much inside, it turns our stomachs and saddens our hearts too much because we want it, and we believe it is not possible. Right? We know for sure it´s not possible. It´s only for other people and not for us because of… this … or because of that..etcetera, etcetera.Thus, we bury these dreams six feet deep and pretend they no longer exist. Yet they linger, Why? Maybe because they might not be so impossible after all. They tug on our heartstrings and we push them away to avoid the hurt. Sometimes we get so good at pretending that we don´t even feel the tug anymore.  And it gets worse over time, "lying to ourselves" is never a good idea. I can make this bold statement.  You see, I´m an expert at it.
When you dig into this question: What is my destiny/my purpose? Once you dig deep enough you will eventually inevitably arrive at an emotion. If the answer does not trigger an emotional response – you are not deep enough. The deeper desires and needs are always emotional firebrands. Only they are big enough to drive us to create change where necessary because by default we resist change.
This is a bumpy road to walk, full of obstacles, barriers, tollgates, and footpads that want to rob you of your dreams and courage. Those obstacles will try to prevent you from healing, prevent you from the fulfillment of your true purpose.
It is a hard road and sometimes hard to conquer.  Again, I can tell because I´ve been there.
You want a companion to walk beside you?  Someone who can help you navigate and conquer those obstacles?
Check me out. I´m good company because I did not learn these things from books. I lived every doubt and every fear and I know the ways out of our own underworld – the highways, the country roads, and the overgrown hiking trails.  I can help you heal, recognize your dream, and put you on the road to your destiny.
Hunting for treasures and spinning wheels
Join me on the WHY-ld Hunt and spin with me the WHY-l Of Fortune to find your purpose and your destiny, not mine or someone else´s but yours alone.
Change is always scary. Worse, it not only requires guts, but it also requires effort and we humans most of the time need a really, really, really good reason to put forth that kind of energy.
What we really, really, really want are emotional states that we crave.
For me, some key feelings are safety, inner peace, and the stillness to reflect. Now I´m an introvert. For you, it might be laughter, fun, and excitement and there is no right or wrong here. The only important thing is to figure out what truly drives you and you might be in for a surprise.When it is all said and done what truly is your purpose is much, much more important than what brand of car you drive. Things and money are not what make us happy, they can be tools for realizing our dream.
The poor man with the golden credit card
So don´t be too modest. Include money in your dreams. It can be really useful as long as it does not make you a poor person with a lot of money.
There is no such thing?
Maybe there is:  Look in the news, in Europe and to some extent worldwide the Royals of the UK have their lives on stage all the time.  From birth to death and everything in between, the rich can buy almost anything.  Yet Prince Harry and his wife Duchess Meghan fled his homeland due to the stress and the inability to live their lives as they wished.
These people surely had everything in the material sense of the word. They literally had the keys to the kingdom and yet it does not make them happy. They are just rich kids with lots of issues and as vulnerable, angry, and confused as you, me, and our neighbors. I doubt they have figured out their destiny.
So let us be careful about what we wish for and very accurate in exploring what we really want and why we want it. That is why I played on words half a page ago.
Wild Hunt – WHY-ld Hunt
Wheel of Fortune –WHY-l Of Fortune
For most of us our destiny and our purpose is not easy to discover. It certainly was not for me. And the Why´s along the way makes a lot of difference between rich people and poor people with a lot of money between Wheels of Fortune is real life and progress and hamster wheels of functioning that go nowhere.
And my claim to fame?
Do you ask what the purpose, the destiny I found is? Well, it is two-fold.
On a personal "Me" level it is the shift from an accountant´s job into the role of coach and shaman, a role that gives me great freedom and fulfillment on a practical, emotional and spiritual level. Beyond that Me, it is a role that allows me to help others experience the same miracle of joy, happiness and healing in their lives and I tell you what guys and gals out there…
….. drum roll ….
…. It is a freaking fantastic feeling when you can do this!
I admit that the work as a rune caster and shaman is most exciting for me because it allows access to wisdom that is truly from another world. However, I always made sure to bolster this up with more mundane and grounded skills from the business world that I spent so much time in. I really enjoy passing on the torch (hence the name of this blog) that so much more is possible than what we see in our day-to-day hectic life. We are so much more than a number and a function. We are destined, all of us. And the all-encompassing name for that destiny is:
Awesomeness & Divinity
We are all awesome. We are all divine. For most of us, it just takes a little nudge to realize it and take the first step. For each of us the dream is different. Sometimes it is buried under tons of debris that conditioned us throughout our lifetime.  But the dream I still there and once uncovered it is possible to make it real.
It can be a long road where you face situations you are not accustomed to and challenges that happen out of your comfort zone.  As I said: I´m good company if you want to walk with me.
Does it mean that when you find your destiny, your life will be carefree, an eternal bliss, and a happily ever after without challenges or difficulties?
No, I´m afraid not. But all the challenges you encounter now will make sense and you will know where to find the strength to overcome them.
In the next few blogs, I will dig a little deeper into the tools you can use when you have answered the fundamental questions
Why? ….
What for? …
That leads to purpose and destiny to fulfillment, the engine of happiness.
Stay tuned for more.
Make sure to check more articles from Marco on his blog Fire Stealer's Torch.
Fire Stealers: the map of how to co-create destiny, no cookie-cutter self-help, guidance to a new life as unique as you are. Live by choice not by default the way that is right for you.
An introduction into the world of the runes, a taste of their power that can already make a difference as you learn, a tailor-made, practical kickstarter for destiny.