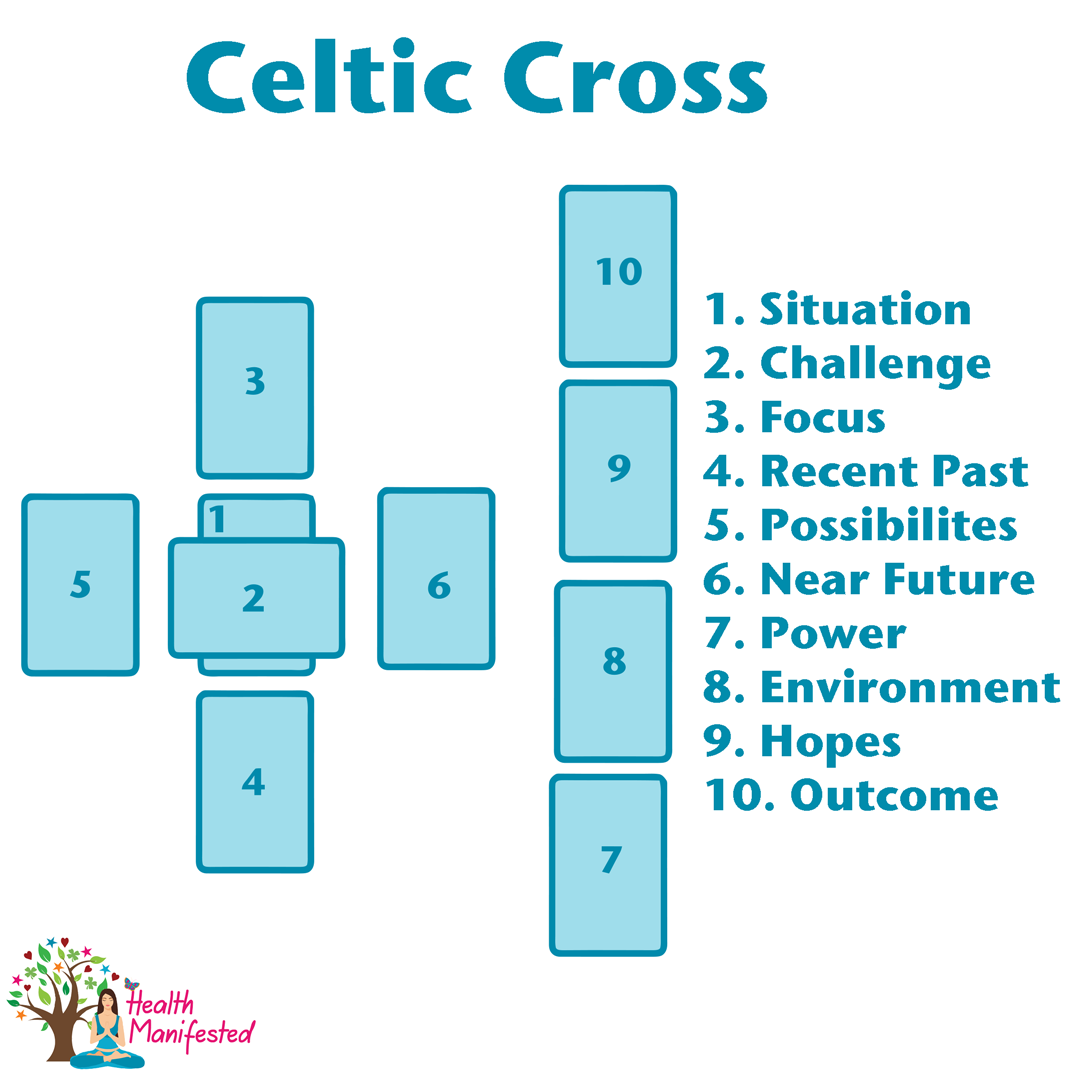 If you are learning tarot, you may want to know how to read the Celtic Cross Tarot Spread. To the right, you can see the Celtic Cross Tarot Spread diagram showing you how to layout the tarot cards. This spread is one of the most common tarot spreads used in tarot.
The Celtic Cross tarot spread can be seen as a more challenging tarot spread. It does use 10 tarot cards and each card carries a deeper meaning in the reading to help you see the bigger picture. When using this spread it is important to know how to interweave the meanings of the cards to understand the full meaning of the message this spread brings.
Celtic Cross Tarot Spread
The list below will help you learn how to read the Celtic Cross Tarot Spread
Card 1: Situation
This card shows the current situation and how it is being perceived.  This is where you are right now.
Card 2: Challenge
This card shows the challenge that is being faced or strong influences.
Card 3: Focus
This card shows your thoughts mind, beliefs, and what to focus on.  This is your hidden desire.
Card 4: Recent Past
This card shows the recent past that played a part in the current situation.  This is what to release or let go of.
Card 5: Possibilities
This card represents the goal you are trying to accomplish in relation to the current situation and challenge.  It is what lies ahead and future possibilities.
Card 6: Near Future
This is the card that shows you what is next.  It shows what is before you in the near future.  It is what you are bringing in or what you think you want.
Card 7: Power
This card respresents your power in the situation.  It represents how you are seeing yourself, your self image and your attitude toward yourself.  This is your relationship with your higher self.
Card 8: External Influences/Environment
This card represents the people, events, and environmental influences.  It represents what you have to rely on.  It can represent your friend's and family's attitude toward the situation or how others perceive you.  This can also be your role in your community.
Card 9: Hopes/Fears
This represents your hopes and fears.  This is the secret to your happiness.  Sometimes it is helpful to pull a second card for this placement if there is any confusion.
Card 10: Outcome
This card represents the current situation based on the current path taken.  If you don't like the outcome, know that you have free will and the power to change the direction.  This can be the outcome where beautiful things happen.
There are many different interpretations of the Celtic Cross tarot spread.  Feel free to experiment with the placements and use what works best for you.
If you want a reference to see the different ways the tarot card can play out, make sure to check out the tarot card meanings or look them up easily by using the tarot card list.  If you are new to tarot and are looking for a new tarot deck, make sure to check my favorite tarot cards and books.  Also, make sure to check out other tarot card spreads.
Would you like to get a tarot card reading?  If so, reach out to one of our Tarot card professionals.  If you are a Tarot professional, medium, psychic or have another profession of similar nature and would like to get more exposure, we offer personalized profiles on our professional's page and page for your expertise. We also offer a service that helps you get more exposure through writing articles and or videos.  You can learn more on our let's team up page.