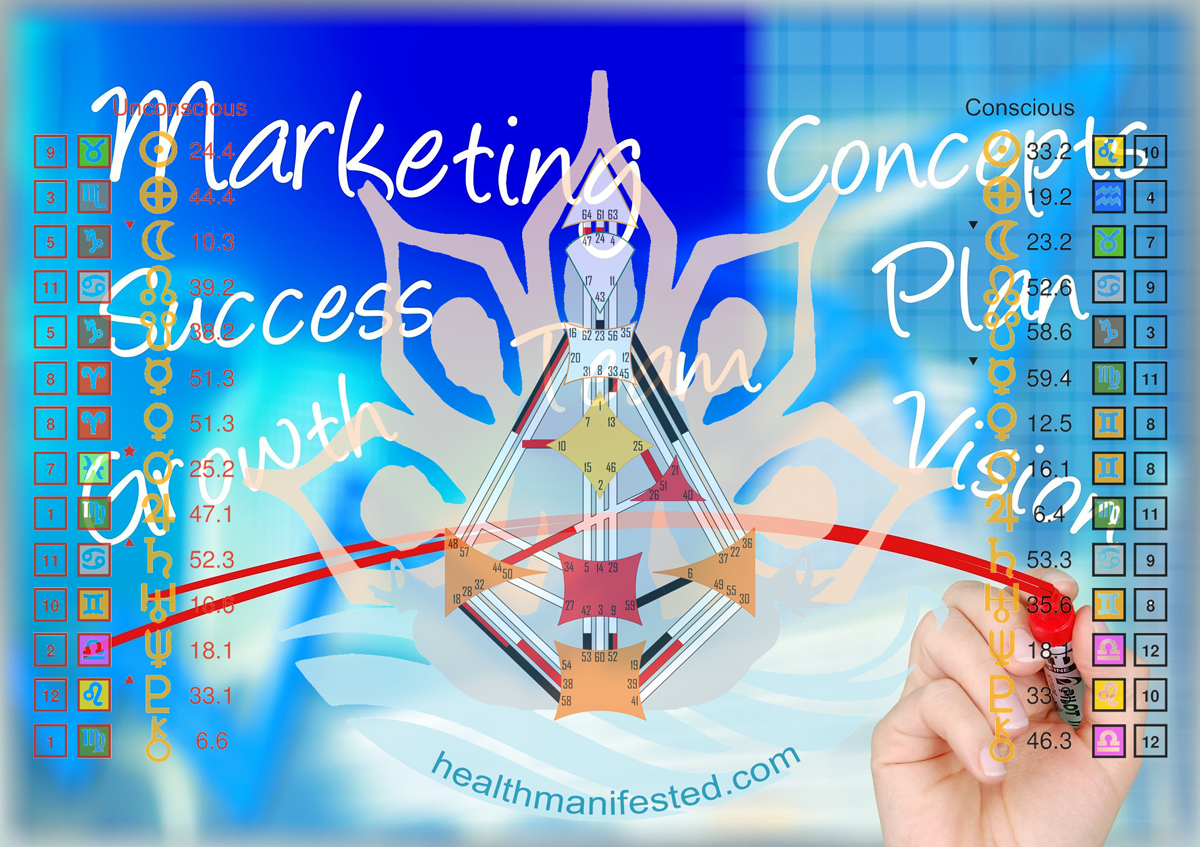 Do you want more Human Design reading clients coming to your website? Do you want to get yourself out there and known for the knowledge you have and work you do? It's time to market yourself!
Here is how to market your Human Design Business online and offline.
How to market your Human Design Business
1. Build a Human Design reading website. How to set up a WordPress website.
2. Set up a Facebook page and use it to share great Human Design articles, insights, tips, and build a community of like-minded people.
3. Set up a Twitter page and share inspirational quotes, related articles, and other marketing content.
4. Start a Human Design, Tarot, Yoga or another kind of blog with your WordPress website and share your insights or information.
5. Answer questions on Human Design forums, Facebook groups, and Reddit groups to build a reputation for yourself.
6. Set up a business Instagram account to help you connect with potential clients.
7. Follow other Instagram accounts that are Human Design or Astrology related who have an engaged following. Post helpful comments and contribute to the conversation to create interest in your Instagram page.
8. Optimize your website for search engine traffic.
9. Create a newsletter sign up page with Human Design and share transits and articles to connect with your followers.
10. Set up an affiliate program so that others can refer clients to you.  People love being rewarded for their kindness.
11. Build relationships with people in similar areas of expertise (example: numerology, astrology, life coaching, Human Design, Tarot) and ask for referrals.
12. Create a professional-looking email signature and advertise your services in it.
13. Write an eBook on Human Design to share your knowledge.  This will attract subscribers to your mailing list.
14. Start your own Human Design podcast and invite guests and offer free mini Human Design readings.
15. Get on a group buy website like Groupon or Living Social.
16. Encourage people to share your website on social media with Social Warfare.
17. Share sample Human Design readings and testimonials.  If you would like to be a part of the testimonials please contact me.
18. Offer a free Human Design reading to a popular blogger and if they love it, ask them to write about it on their blog or website.
19. Conduct interviews with previous clients to show how the reading transformed their lives with the help of your Human Design reading.
20. Make a video about your Human Design skills and post it to Youtube.
21. Create Human Design reading specials for different times of the year. Offer a Relationship Human Design Reading special for Valentine's Day or a New Year special for the start of the year.
22. Run a competition to win a free Human Design reading with you and cross-promote on other websites and social media platforms like Instagram, LinkedIn, Twitter, Patreon, Pinterest and Facebook.
23. Make your Services and Products easy to find.
24. Add a 'bonus' with your Human Design readings example: 3 questions after the reading.
25. Become a guest on a Human Design podcast.
26. Write a guest post for another Human Design blog and include your links to get linkbacks to boost your Search Engine Optimization.
27. Run a free webinar on Human Design to share your knowledge and services.
28. Offer Human Design reading gift vouchers.
29. Consider setting up Google Adwords and paid advertising. Get informed on how to get the most ROI out of Adwords.
30. If your business is local, register your business with Google Local.
Existing Client Strategies
31. Reconnect with your clients 3-4 months after their Human Design reading to check in that everything is going well.
32. Mail your loyal customers a thank you note and "Refer a Friend" special.
33. Collect the birth dates of your customers and offer a special discount for a Birthday Human Design reading.
Branding Strategies
34. Craft an attention-grabbing tagline for your Human Design business.
35. Tell your personal story on your About page and get clear on what style of readings you offer.
36. Be authentic and show passion. People buy from people they trust and like.
37. Design a stand-out logo for your Human Design business using Adobe Illustrator.
38. Get clear on what your customers value in your Human Design readings and use this to form your marketing strategy.
39. Be uniquely you.
40. Create an eye-catching business card. Sure, you can get freebies from Vistaprint, or engage a designer to make you something really special. You can also use Adobe Photoshop to design your business cards.
41. Create inspirational quotes or eye-popping photos and designs with Adobe Illustrator and Adobe Photoshop.
42. Include customer testimonials whenever possible.
43. Read the Purple Cow and learn how to stand out from the crowd and be different.
Local Marketing Strategies
44. Create Human Design postcards with your details printed on the back and drop them in random, unexpected places. People will be intrigued when they pick up a Human Design Postcard and may want to learn more.
45. Prepare your 'pitch' that is about 30 seconds about your Human Design business and why your customers rave about you and share it with everyone you meet.
46. Post a flyer for your Human Design business at the local shops, especially new age shops.  Canva is a great tool for making marketing material.
47. Carry your business cards with you always, and be ready to hand them out as you eagerly tell others what you do for a living.  Canva is a great tool for making business cards.
48. Offer 10 minute Human Design readings for $10 at your local library, café or hairdresser, and hand out your business cards for more in-depth readings. Tell everyone you know and ask if they will share with everyone they know.
49. Write an article in a new age or spiritual magazine and include your contact details in your profile.
50. Join local small business groups with people from diverse backgrounds, and attend networking events.
51. Get an ad in your local newspaper.
52. Create a local meetup group around Human Design.
53. Create a unique story about you as a Human Design Specialist and share your story to your local newspaper. Larger newspapers often get their story ideas from the local papers.
54. Brand your car with your Human Design business contact details and logo.
55. Join associations in complementary fields such as astrologers, Pagans, Wiccans, psychics, etc. Build relationships and encourage referrals.
56. Ask your local magazine if you can write a column about Human Design.
57. Partner with people in complementary industries and offer combined packages. For example, why not join forces with a beauty therapist and offer Human Design readings with a pampering party?
58. Put an advertisement in the window of your house or office.
59. Join your local Chamber of Commerce.
60. Give back to the community by offering free Human Design readings at local charity events.
61. Post an ad on a free list such as Craigslist.
62. Create a special Human Design reading event for a local mother's group to help mothers learn more about their children.
63. Sponsor a charity event and offer a gift voucher for a Human Design reading.
64. Offer to give mini Human Design readings at sales events at like-minded shops.
65. Ask your friends and family to promote your Human Design business.
66. Design a t-shirt that advertises your Human Design business and wear them whenever you go out in populated areas or at events.