NAUTHIZ
Hagalaz brought us the hail, the unfettered power of destruction and change. Now the tenth rune of the Elder Futhark Nauthiz brings us the need and sometimes the desperation that follows radical change. Like Hagalaz, Nauthiz is often felt as a harbinger of doom and a negative rune to be afraid of. And as with Hagalaz, this can be true at least in the short run. The shape of Nauthiz mimics a fire bow, a fragile and primitive instrument made of brittle twigs that can nevertheless ignite a life-saving fire.
As such, it symbolizes the will of the human being to survive in the face of hardships. For our ancestors, the elements of nature were much more dangerous ten they are now in our comparatively sheltered and secure lives. Hail and storms were life-threatening. The fire bow, brittle and vulnerable as it was, could be the traveler's last chance to survive after being hit by the hail, cold and soaking wet from the storm our ancestors sought a protected place like a cave and tried to ignite the fire that would warm them up and save their lives.
Nauthiz has often been linked to the need for fire or signal fire, the one that was lit on a coast to call in help. It always reminds me of the alarm fires from the Lord of the Rings when the White City Minas Tirith called the Rohirrim for help.
Nauthiz is the need, it is the bare necessities needed for survival. It is the hardship that we endure and that threatens our existence. It is the lack, the freezing cold, and the damage done by Hagalaz that somehow we must endure. So, yes there is a reason to fear Nauthiz. But from personal experience, I came to realize that Nauthiz is more than destitution and destruction. It is also "That Which Should Be". It is the most desirable outcome. It is what we should do, achieve, accomplish, and have. It is the need that we feel deep inside for a life that is better than what we experience at this moment. Again, it represents the human will but in this case the will to create a better future. Nauthiz becomes the fire bow with which we ignite a better future for ourselves despite any obstacles in our way. In that regard, it is closely linked to Skuld the Norse goddess of fate that governs the yet non-existent future.
Seen in a negative way Nauthiz can e the torn sail of the ship of our lives when we are thrown around by the storm of external influences. On the positive side, it is all the means, all the strength, and all the power we have to not only survive the storm but turn the hardships into a chance to make things better.
Need makes for a difficult situation;
The naked freeze in the frost.
That is how an old rune poem goes. When we are deprived of what we need, seemingly powerless, we see the ugly side of the rune. We see the face of Skluds when she cuts the thread of our life. We freeze in the cold and we fear we will freeze to death. In Nauthiz the balanced cross of Gebo, the fair give and take are unbalanced and thrown off kilter.
But then we take our fire bow. We take the resources, the tenacity, the skill, and the sheer will to move on and create our warming fire. That moment Skuld smiles at us again and her name becomes the root of "should" or "what should be".  Skuld expects us to fight for what we want and need whether we like it or not. Fighting for survival was at the very core of our ancestors' lives and it is again my personal experience that the runes challenge us to greatness, courage and fulfillment. Destiny does not come easy and perhaps this is not a bad thing at all.
ISA
Isa, the eleventh rune of the Elder Futhark is also full of ambivalence, a rune that can scare as much as enthrall. Literally translated Isa means ice. It represents a state of stasis. Isa is frozen motionless static. Such a state can be both positive and negative. Isa is a great rune to focus on and to ground yourself with. It can give you great stability and bring you back to your core where you finally hear your own voice and not one of the others.
However, Isa is also the ego that knows no compassion. It is the cold winter where you freeze to death in snow and ice. It is the stillness of death and the immobility of being frozen in place. The concerns of others have very little room with Isa as you focus on your own core. Isa is ego and ego can be both good and bad. We need it to know ourselves and find our ways. But if ego goes out of proportion it becomes a deadly weapon. Winter can be beautiful but the frozen ground also kills the insects and kill everything at week.
Isa is self-confident and calm but it can also mutate into looking out for number one and me first (at all costs). It can make understand your own motivations and your own wishes. Or it can make you all egotistical.
Isa can make us focused on our needs or too focused on our needs. The single vertical line that is Isa connects strongly to the shape of Nauthiz before and I think that is for a good reason.
If you are grounded you are strong and know what you want. But there is a risk that you forget to look at the bigger picture and the needs of those around you. Strength becomes bullying and focus can become self-absorption. You walk a fine like here and again I think the shape of Isa is a very good reminder of that. The shape of Isa represents the line that we stand on to find the balance between healthy self-love and greed. Are we a pillar of stability or are we an ice queen/ice king freezing others to death?
On my shamanic journeys, I have several times experienced Isa as a pillar of light to pass through. It was the act of passing through my own ego to a higher and more selfless perspective. I still had to maintain an understanding of the needs I had to cover at the same time.
One of my teachers used the mantra "I AM" when meditating with Isa. Just keep in mind that this is the I AM THAT, I AM of the burning thorn bush, the divine I AM that also recognizes the rest of creation.  So I leaned to honor my ego, I learned to listen to it but I do it with caution. When you cross a frozen river you are always mindful that the ice sheet is strong enough to carry you. I speak of the runes as tools of destiny but destiny is never a solo adventure. Heroes and destiny are not made in isolation without regard for others.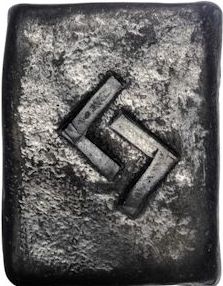 JERA
There was a lot of gloom and doom and the two previous runes. Now with Jera the eleventh rune of the Elder Futhark things start to light up again. It is almost spring when I write this on early February 2023 and Jera is the rune of the seasons. It is the only rune made up of two parts that are not connected. Instead the two halves of Jera circle each other. They represent sunar and vedhra – summer and winter – the two seasons recognized by the people of Northern Europe.
On a larger scale, it represents the circle of life. What is born and grows must eventually wither and return to the earth. It relates to Raidho in the sense that Jera is about natural cycles as well. Jera is the wheel that turns around and around forever, sowing and harvest, the passing of the seasons. It is also about the inevitability of life and death. Death will always claim life and life will always find a way back if in a different shape. A friend of mine died of cancer in January but thanks to my work I know her soul is still very alive and getting ready for another adventure. Jera is slow but sure. What goes around comes around, so there is a karmic quality about it as well. What you sow you will reap. Maybe not as fast as you like, maybe not even in this lifetime. But it will come around as surely as spring follows winter and light follows darkness.
Golden corn fields, blue sky, snow and icicles, the seasons, Indian summer, all that is Jera. Rolling white clouds in a blue sky turning into dark rain clouds, rain pouring down on the corn fields, nourishing the earth, that is Jera. The corn grows and is harvested, made into bread again that is Jera. Seeds are returned to the soil for the next harvest before the silent white cloak of winter covers the land and the cycle starts all over again. That is Jera.
Good things come to those who wait after they have done the work that was necessary.
There is a saying that opposites attract. They do. The two halves of Jera revolve a common center but they never touch each other. The sun god and the moon goddess of Wiccan belief share the same sky and legend has it that they love each other. But they are forever separate except for rare moments when the moon is visible in the day sky. Jera made me realize that there is a connection between all of us although we never meet in life. Again it is the I AM THAT, I AM. We are all connected. The person behind my eyes is the same as the person behind my eyes and we all revolve around the divine source forever.
We are all part of the cycle. We are all spokes of the wheel. Let us not beak the wheel out of stupidity. Because what we sow today we reap tomorrow whether good or evil. So let us make destiny in the name of Jera.
Make sure to check more articles from Marco on his blog Fire Stealer's Torch.
Fire Stealers: the map of how to co-create destiny, no cookie-cutter self-help, guidance to a new life as unique as you are. Live by choice not by default the way that is right for you.
An introduction into the world of the runes, a taste of their power that can already make a difference as you learn, a tailor-made, practical kickstarter for destiny.