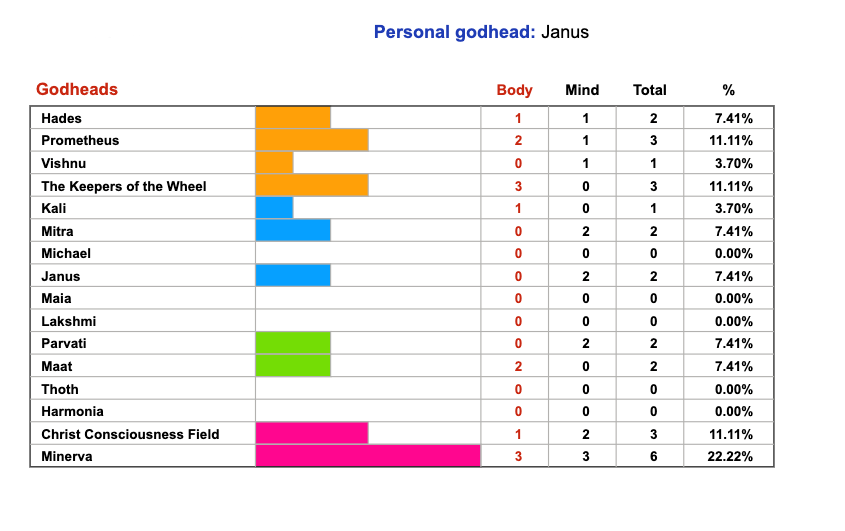 Have you ever wondered what percentage of your chart relates to the 16 different Godheads associated with Human Design?  Genetic Matrix offers a Godhead Human Design chart where you can see what your Personal Godhead is and the percentage of each Godhead is in your chart.  In this image, you can see the Personal Godhead is Janus and the most predominant Godhead in this chart is Minerva with 22.22%.  You can also see which ones are Conscious (Mind) and Unconscious (Body).
The Faces influence us through the personality crystal bundle.  Ra taught that we are programmed through these 16 different influences.  These 16 forces are all competing with each other.  This is thought to be why people often believe that their belief is better than another person's.
The 16 Godheads came from a quarter of a quarter.  The Ancient Faces or the quarter consist of the 4 separate faces Sirius (Mutation/Yang), Dubhe/Mind (Civilization/Yin) , Alcyone/Body (Initiation/Inspiration), and Jupiter (Duality).  They are the 4 corners or quarters that each have their own experience to share.  The 16 Faces represent the 16 different personalities or 16 ways we are programmed or conditioned.
As you can see from the chart to the right there are 11 different personality types or Godheads within this individual's chart.  That means that there are 11 different personalities competing within.  These personalities within us can be asking us to go this way or that way.  Ra taught it as 16 different God's and that to some you may think of all of them united is a sense of the "God" that people speak of.
16 Faces
Hades
Prometheus
Vishnu
The Keeper of the Wheel
Kali
Mitra
Michael
Janus
Maia
Lakshmi
Parvati
Maat
Thoth
Harmonia
Christ Consciousness
Minerva
Make sure to check out other charts that Genetic Matrix offers here.