An approach to why spiritual people might consider money evil and why Freya can't be chairwoman of the Deutsche Bank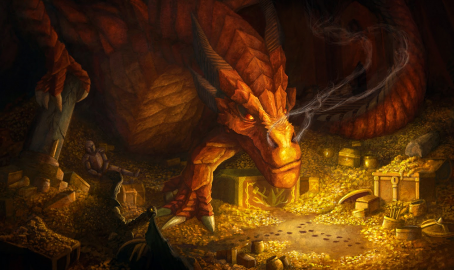 FEHU the cattle, the life force, closely associated with the goddess Freya,  can take a myriad of forms and shapes but perhaps the most tangible, most present, and arguably most practical form of Fehu is our own dragon hoard of digital and physical money, the income that we pay our bills with. But when Fehu is the first rune we encounter in the Elder Futhark, why do many spiritually inclined people have a squishy feeling about money?
Here are some answers/blocks that I encountered on my own journey.
If you provide a spiritual service is it ethical to begin with to charge for it?
And if it is ethical how much do you charge?
I once knew a practicing witch who if my observation is halfway right, had genuine divinatory skills as in the second sight, more than what Tarot practice, pendulums or runes usually provide. I still own two Tarot decks that have belonged to her and her card-reading mother and they are full of stories and memories. What appeared dull and lackluster to her is vibrant and alive to me. Interesting in the context of Fehu is that especially eh gold and yellow colours stand out for me. Anyway, this lady is skilled. Yet, she described her own life as a curse and went through at least one suicide attempt that I´m aware of.
I once tried to read the cards on her situation with her express permission and all I got were swords, reversals, the Devil, and a general feeling of hitting a wall. She later told me that exactly the same thing had happened to everyone else who ever tried to assist her and she attributed that to her personal guide who somehow seemed to be her torturer are much as her guardian. I have the lingering feeling that many of her problems came from the fact that she took advantage of her customers by selling or re-selling overpriced esoteric items on eBay. To some degree she was prostituting the craft rather than practicing it and on top of family issues with the mother maybe she was punishing herself or being punished by the spirits for that.
In the end, it is about values. When we provide service, do we provide a value, and is the price we ask in balance with it as in the Gebo rune?  And what values do we uphold? What standards do we live by?
Recently my mother paid a carpenter who had repaired her roof several years ago but plain forgot to invoice her because around that time his wife died. By the letter of the law, my mother was no longer obliged to pay him. The claim had long expired. She knew that full well but still paid him the 5.000,– Euro deducting only 200,– because back then she had cleaned up in the blistering sun the mess his work crew had left behind. A goatee-bearded yuppie who grew up with the internet might not have paid it because morale standards deteriorated in the last couple of decades. But the decency and integrity my mother showed is my moral compass. One day – hopefully far away – she will be one of my ancestors and will be held accountable for my actions.
To give an example of the reverse attitude: years ago the former chairman of the Deutsche Bank group Alfred Ackermann was asked by an interviewer if he thought he really deserved his eight-digital annual salary. Ackermann´s reply was "I do not know if I deserve that salary. But I know that if I would make less, all the young guns out there, all the hungry young bankers who want to make it would not respect me."
This seems to be where the perversion of wealth and life force starts, by valuing someone's money and prosperity but not the living being. If we respect the people we deal with and subscribe to the old-fashioned values of integrity, honor, and decency we can go very far in being fair with our business dealings.
Fairness does not mean being stupid or ignorant of reality. I hold two degrees in business administration and worked for almost thirty years in Finance and Controlling. I do question the value of things before I buy them. I try to maximize my return on investment. So, I´m one of those who work with a coach and choose an installment plan if they can get one because it improves my own liquid cash position. Actually, if there is no installment plan I try to negotiate one.
Does this make me an evil person and did I grow some dragon scales on my forearms? Perhaps a few. Or maybe it is just the fact that my money does not grow on a tree either. But installments aren't all evil. In some cases having a slower but more predictable cash flow might actually be an advantage for example if you are looking for a long-term bank loan.
So when does it start that the loving and obedient dwarf prince Fafnir starts to grow scales and his eyes become orange with dragon fire?
I have no hard and fast answer for that. Perhaps it starts when you compromise your values. When you start to pile up one questionable deed over the other to get what you want. When ego becomes more important than values or added value when you are in a position of lack, greed, and envy that is when we transform into dragons a little piece each day. Am I immune to that? No.
I once told my rune teacher that I envy her for one thing: She is already a mistress of her craft and still has a lot of time left whereas even with the utmost dedication I could only reach a comparable level around the time my school uniform aka my body will give up. That does not really make me Fafnir but it is a block of Fehu I need to deal with and I plan to. I don't like facing that truth but lying to ourselves or finding excuses for questionable actions and unacknowledged feelings is another road into the dragon's lair.
"Above all things be true to thyself."  As long as we hold ourselves accountable for what we do, think, and feel we stand a good stance to do the right thing, not always but often enough. And then having cash is nothing wrong anymore.
We have to be aware though that the world is ruthless, especially the business world. People do funny things for money and if you put enough pressure on someone the person might just break and compromise. Others never really consider ethical standards and make money knowing full well that it is at the expense of others and being fully comfortable with it.
That is the dragon.
Again there is no fail-safe remedy or defense against this I know of. I suppose we just have to navigate it as part of the human condition day after day but I´m sure that knowing who we are and what we stand for is an immense help. Personally, I also found a lot of wisdom in the advice from the Good Book to be wise as serpents but harmless as doves.  One should not practice the dirty tricks but one should be aware of them. To use a metaphor from Norse tradition: a bath in dragon´s blood is said to make you invulnerable without making you a dragon. Didn´t save Siegfried's life in the end either but it got him far.
My rune teacher has described a technique where people drew a (Fehu) rune in the air and stepped through the smoke for a transformational experience. I have not tried it yet but it sounds like a powerful tool to experience FEHU and get the "right" feeling about what the energy of the rune is all about. Since it is somewhat impractical to carry around a smudge stick as we go about our daily lives I wonder if this feeling we get that moment can be permanently anchored in the sense of neuro-linguistic programming anchor where you summon a desired feeling and link it to a physical action. Since we have hand mudras available and since runes are inherently visceral it might just work. I let you know if I find out.
What I have found out is that money is not inherently bad or dirty. It is the currency that can buy either our freedom or the chains that hold us.
Years ago I had contact with a guide that I referred to the "The Spirit of Money". He is not a malicious or greedy figure. He is more like a kind grandfather who happens to be very affluent. I did not listen to him often enough but long enough to understand:
There are no Get-Rich-Quick schemes
There is no substitute for honest hard work
Watch your spending habits
Think long-term
Don´t screw them over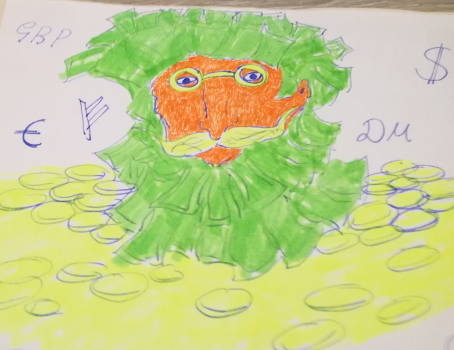 Looking at the picture I drew back then maybe it was Odin in disguise for his ring Draupnir is surely a good and reliable source of revenue.
Freya is huge in making her own luck. She is also huge about self-worth which ultimately seems to be the root from which to calculate the price of a service we offer. The price tag is what we are worth and what worth we see in us. That goes for self-employment as well as for being gainfully employed.
And now I´m off to pay the invoice from my car repair shop. They did good work and deserve that some Fehu is set free.
Make sure to check out other articles from Marco's blog Fire Stealer Torch.