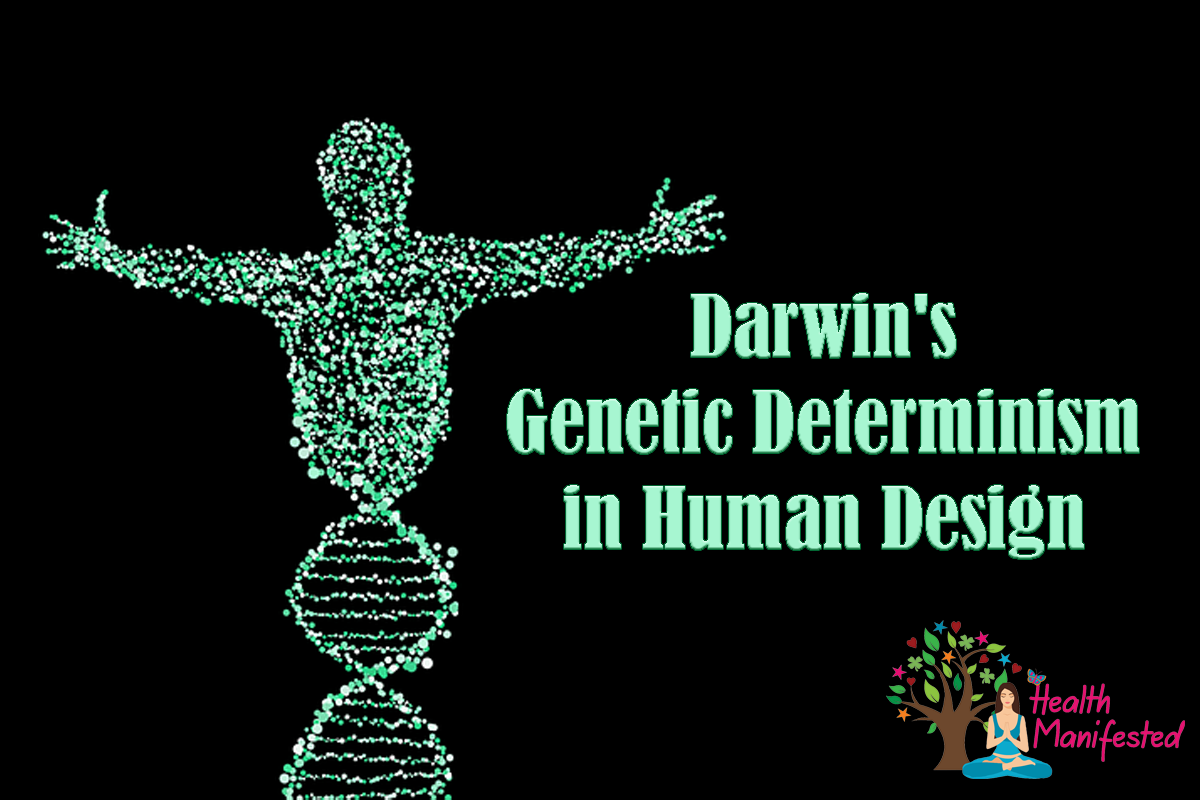 I do not adhere to the ideas of Darwin's genetic determinism in Human Design as presented by Ra. It's alright that this was his perspective, it's not mine.
I clearly see the flaw in Human Design is based on genetic determinism within our definition, also known as our nature in Human Design. We are not fixed within our genetics with no choice. What is correct along these lines in Human Design is how important our environment is. It's more than our environment in our Design, though this is a good part of it IF it is in alignment with You. There are some whose environment would make them very ill if they only went by their Human Design environment. That goes for their determination, diet, too. There is, of course, much in Human Design that is valid, when it can be validated through your actual life experiences.
Darwin's genetic determinism is what Human Design teaches within its system even tho Darwin, before he died, realized it was the environment that changes us…
"The problem with the underemphasis on the environment is that it led to an overemphasis on "nature" in the form of genetic determinism—the belief that genes "control" biology.
In an 1876 letter to Moritz Wagner Darwin wrote: "In my opinion, the greatest error which I have committed has been not allowing sufficient weight to the direct action of the environments, i.e., food, climate, etc., independently of natural selection . . . When I wrote the Origin, and for some years afterward, I could find little good evidence of the direct action of the environment; now there is a large body of evidence.
Unfortunately, Darwin's followers perceived that his return to Lamarckian "thinking" was a sign of Darwin's aging and now-addled mind. Rather than following their master's revised vision, Darwinian evolutionists chose to remain more Darwinian than Darwin!"
Human Design does not encourage any form of self-improvement of our definition, of our nature. We are only to accept it with no choice, ergo no responsibility for our nature, which is genetic determinism. We are, in fact, more than just our genetics, as science shows.
When I first delved into what I call the darker side of Human Design and read Ra's Prophecy, it sounded archaic, parasitic-like. Yet, I forged on knowing that I may come to light at some point. We don't know until we are willing to dive into the "dark" too, not only the "light". Of course, I found a wealth of light in Human Design by listening to my inner intuitive knowing. I use what resonates and leave the rest. The bodygraph speaks to me when I'm doing a session with someone. For some, we go below the surface into the colors, tones, and sometimes even base if it speaks to me. I hear your bodygraph through what you say, or don't say, and reflect that back to you.
I invite you to start living life instead of life living you like a puppet on autopilot, being tossed to and fro by others and the transits. Be more responsive rather than reactive. Explore what you're learning here through your relationships, and the transits, outside of your definition. The energy in your openness is not consistent, though these are the areas you can learn and tap into when you have the energy to do so. This is where your potential wisdom is to be gained through your experiences in life. As always, be playfully curious and use your inner authority.