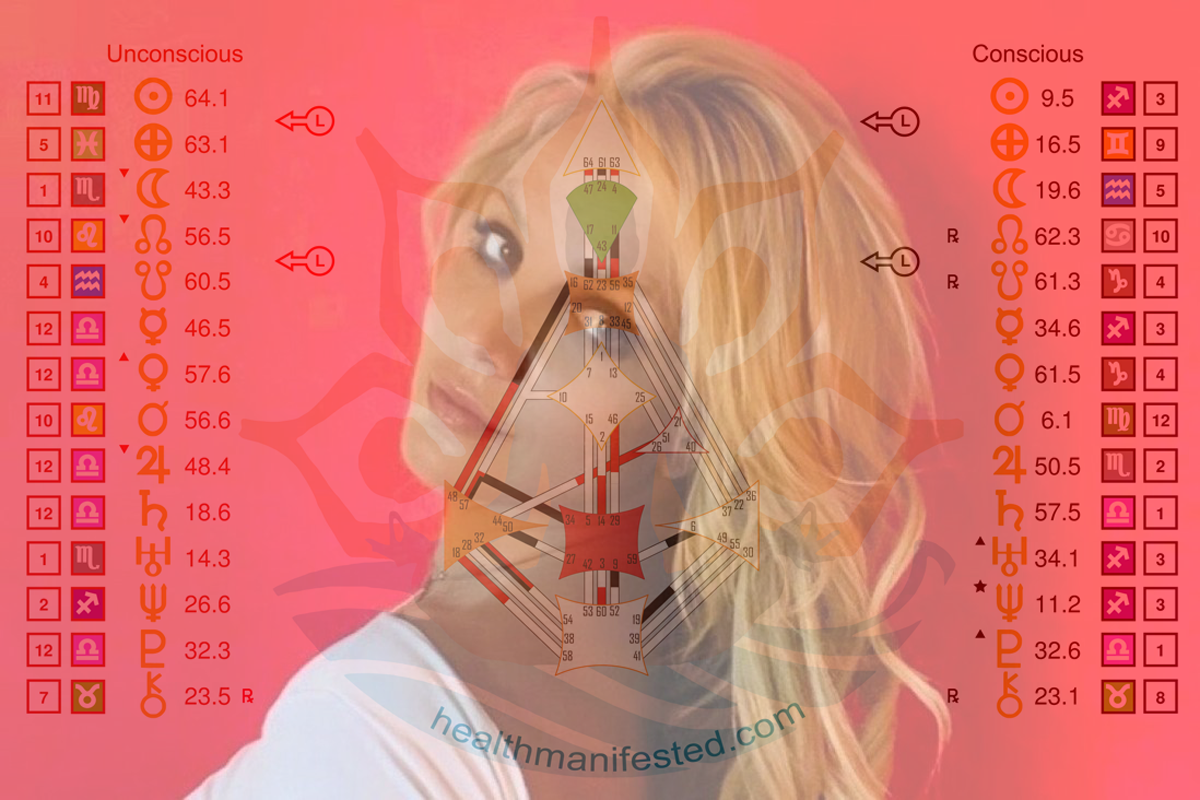 I came across a video on the Britney Spears Full Conservatorship Hearing and thought this would be a good time to look at Britney Spears Human Design Astrology chart.  In the video, you can see that Britney has been controlled for 13 years by managers, her direct community, and her family.  She has been told where she needs to go, what she needs to do, and how she needs to behave.  Britney's ascendant, which is your personality and the way the world sees you is Libra in Human Design Gate 46.  Gate 46 is very determined and it is the love or hate of the body.  The 46 can love to dance or do yoga and she has used dance with her music in a beautiful way.  Libra is the sign associated with the law and Libra is where we have a lot of the fear gates in Human Design.  Her natal Saturn is in Human Design Gate 57.  This is the gate that can be the fear of the future.  Her natal Pluto is closely conjunct her natal Saturn in Human Design Gate 32.  Gate 32 is the gate that is associated with the fear of failure. Based on what I heard in the video I can only imagine Britney has been scared that the control her family and managers have had over her will never end.  She is probably also scared that she will fail in the court case, and might have been scared to even try.  She probably has a fear of the law with Saturn and Pluto in Libra, but she is here to learn about the law which unfortunately has had a lot of control over her life.
The Saturn Pluto conjunction in her chart can create the energy for being controlled and in her case, it is in her 1st house which is the house of her identity.  Britney's family and managers have had more control than she probably ever realized since she was a child starting in the entertainment industry so young.  We saw this Saturn Pluto conjunction in Capricorn in 2020 when the government made everyone stay in their houses during the pandemic.  The government had more control than people would have liked, telling people where they were allowed to go, how they were allowed to run their businesses, etc.  Britney as well as other people who were born around 1981 and 1982 were born with the Saturn Pluto conjunction which has the potential to be more controlling energy.
This year in 2021 she has been having her natal Pluto square transiting Pluto.  This can help release the control she has been experiencing in her life.
Britney Spears Human Design Astrology chart shows she has her natal Jupiter in Scorpio in her 2nd house in Human Design Gate 50.  Human Design Gate 50 is the energy of values and following family values.  It is the energy for the protective parent.  The second house is the house of money, values, and possessions.  Scorpio is a sign that can be very secretive.  Based on Britney's experience it sounds like it has played out that her parents have used her money and have really valued her money and the possessions she has made.  It sounds like they have also been very secretive about what they have done with her possessions.  Her natal Pluto is close to her natal Jupiter.  Jupiter expands what it touches and Pluto can be the planet of power and control.  Her chart would indicate that her identity has been controlled and she has struggled with this (Saturn) and Jupiter in the 2nd house and her money has also been controlled.  These 3 planets have affected her personal life, her money, and her possessions.
Britney Spears' Incarnation Cross is the Cross of Identification 2.  She is designed to become wise over time. She can help people recognize the difference between what they want and what they need.  Her Sun is in Human Design Gate 9, which is in Sagittarius.  If you listen to Britney in the video she talks about how she tried to fake it till she made it and if she believed something long enough she could convince herself to be happy and that it would get better.  Her Sun is in Sagittarius which is the sign of belief and her Sun is in the 3rd house, which is the house of your mindset, thoughts, your words, and your community.  Her community (family/managers) made her believe she could not take care of herself or make her own decisions.  Saturn and Pluto mentioned above in Libra also can be the sign of being indecisive and her community made the decisions for her.  Sagittarius is also the sign that really wants freedom.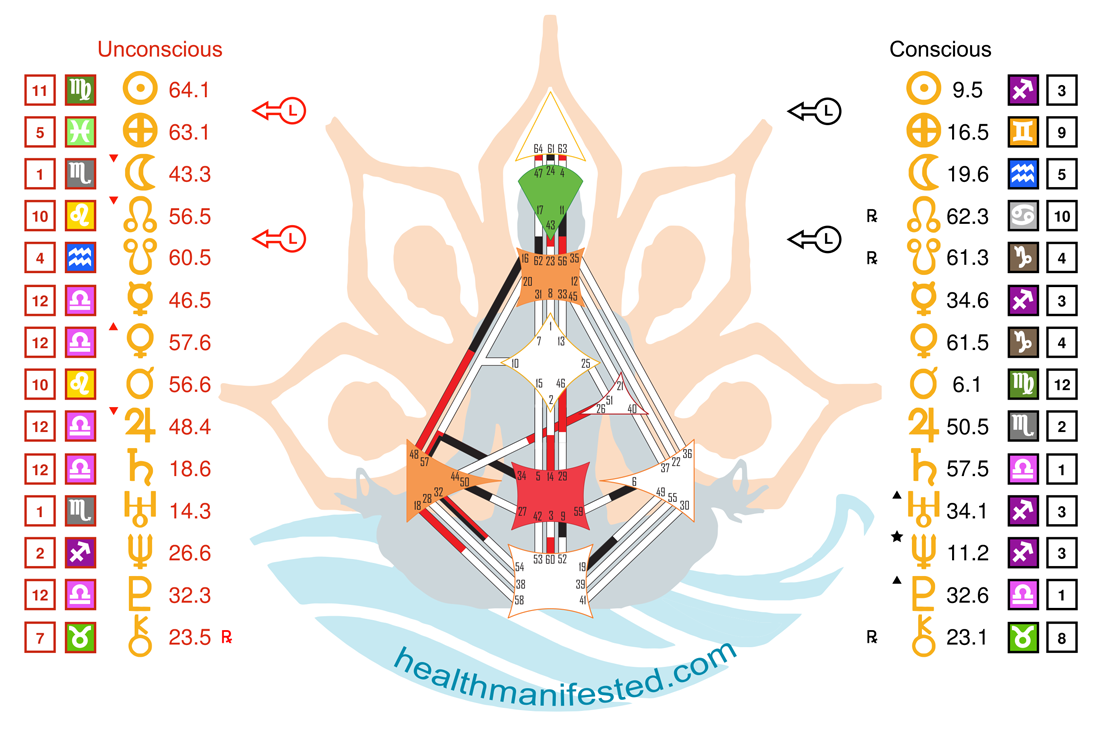 Britney Spears' natal Mercury is in Human Design Gate 34.  Human Design Gate 34 can be the multitasker.  As she mentioned in the video she choreographed her own shows, taught her dancers the moves, wrote her own songs, practiced dancing, and more.  She is definitely a multitasker.  Gate 34 is Sagittarius which as mentioned above is the sign of beliefs.  She may have struggled with her beliefs during a lot of what she has done in her life, like is she really lucky?  Can she manifest her dreams?  She mentioned how she tried to keep a positive mindset through all the control she has been through.  Gate 34 in a low vibration can be a bully or bullied and in this case, it sounds like Britney was bullied and was told what to believe, how to behave, and what to think.   She mentioned in the video that she didn't want to get off the phone because as soon as she does she will be bullied and told no no-no-no.  Her Sun, Mercury, Uranus, and Neptune are all in Sagittarius.  She is designed to learn a lot about beliefs and really wants her freedom.  Britney is also designed to learn about her community's beliefs and mindset (3rd house themes). She is also designed to have strong beliefs.  She does not believe in therapy after what she has been through and believes that she can go to God for help in times of need.
Her natal Venus is in Human Design Gate 61 which is in Capricorn.  Capricorn is hard-working energy.  Venus is the planet of love and values.  Her work was very valued.  It is in her 4th house which is the house of home and family.  In this case, her family used her work to have a lot of money for the family.  She also mentioned in the video that her maids in her home are there to work for her not the other way around.  I am sure Britney probably really loved her work when she started, but I am sure the control has probably made her not enjoy it like she once did and the fact that her family took her work and used it for themselves was upsetting.  Human Design Gate 61 is the gate where you can drive yourself crazy wanting to know why.  I can only imagine she wants to know why her work (Capricorn) and possessions/money (Venus) needed to be controlled by and used by her family.  This placement plays a bigger part in showing that her family really valued the money and the work she did for them.  She mentioned she really wants to have a family and have another baby.  She wants to focus on her family and allow that to be her work Capricorn in the 4th house.
Her Chiron is in
Human Design Gate 23
which is the Gate of explaining.  She has been wounded by trying to explain how her family has used her.  Her Chiron is in the 8th house which is the house of death, taxes, inheritance, and other people's money. It is also where we have pain.  Chiron is also the planet of wounding.  Her Chiron is in Taurus which is the sign related to possessions and money.  This placement indicates she has had a lot of pain around possessions and money and it relates to the way the law set up who was in charge of her money with this conservatorship.  Taurus and Libra are ruled by Venus.  Her Venus is in Capricorn in her 4th house, so this relates to her wound (Chiron).  As mentioned above her Venus is in Capricorn which is her work and 4th house is her family, so her wound is directly connected to her work and family.  Her Venus also plays out in her identity (Libra 1st house) with Saturn and Pluto in Libra creating control in who she is and how she can behave with the law and the fear that comes with these Libra energies.
#freebritney
Are you interested in learning more about your Human Design and Astrology?  Check out the services we offer or learn more.  Check out other Celebrity Mini Human Design Astrology Readings.