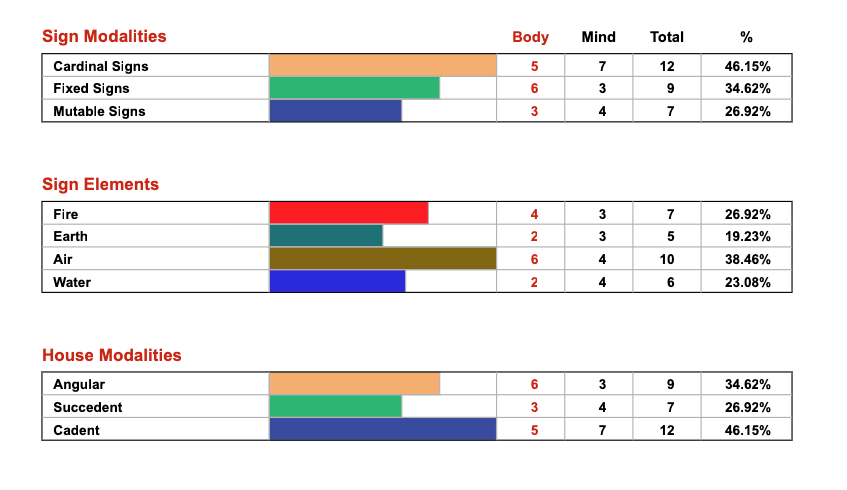 If when you read an Astrology or Human Design Astrology Wheel chart, you like to add up the Sign Modalities, Sign Elements, and House Modalities, Genetic Matrix offers this as part of their service.  This makes it convenient and easy.
When looking at an Astrology chart it is helpful to look at the Sign whether the person is more mutable, fixed or cardinal.  The cardinal signs are Aries, Cancer, Libra and Capricorn.  The Fixed signs are Taurus, Leo and Scorpio.  The Mutable Signs are Gemini, Virgo, Sagittarius and Pisces.
The next thing you want to look at is the Sign Elements.  The Signs have elements.  The 4 elements are Fire, Earth, Air and Water.  The Fire signs include Aries, Leo and Sagittarius.  The Earth signs are Capricorn, Taurus and Virgo.  The Air signs are Gemini, Libra and Aquarius.  The water signs are Cancer, Scorpio and Pisces.  Seeing what sign elements are most predominant in a chart can shine light on the personality type.
The House Modalities are Angular, Succedent and Cadent.  The Angular houses show the angles of the house related to the Ascendant, IC, DC and Midheaven.  They are the 1, 4, 7th and 10th house.  These houses show how well a person deals with things in the moment.
The Succedent houses are the 2nd house, 5th house 8th house and 11th house.  The houses are traditionally connected with fixed signs.  The Succedent houses can shine light on how much a person puts on valuables, what they value, and who they value.
The Cadent houses are connected with the 3rd, 6th, 9th and 12th houses.  The Cadent houses are traditionally connected with the mutable signs.  The Cadent houses have to do with the persons thought process before they take action.  It has to do with the changes and phases of life.
Make sure to check out the other resources for Astrology, Human Design and HD Astro.