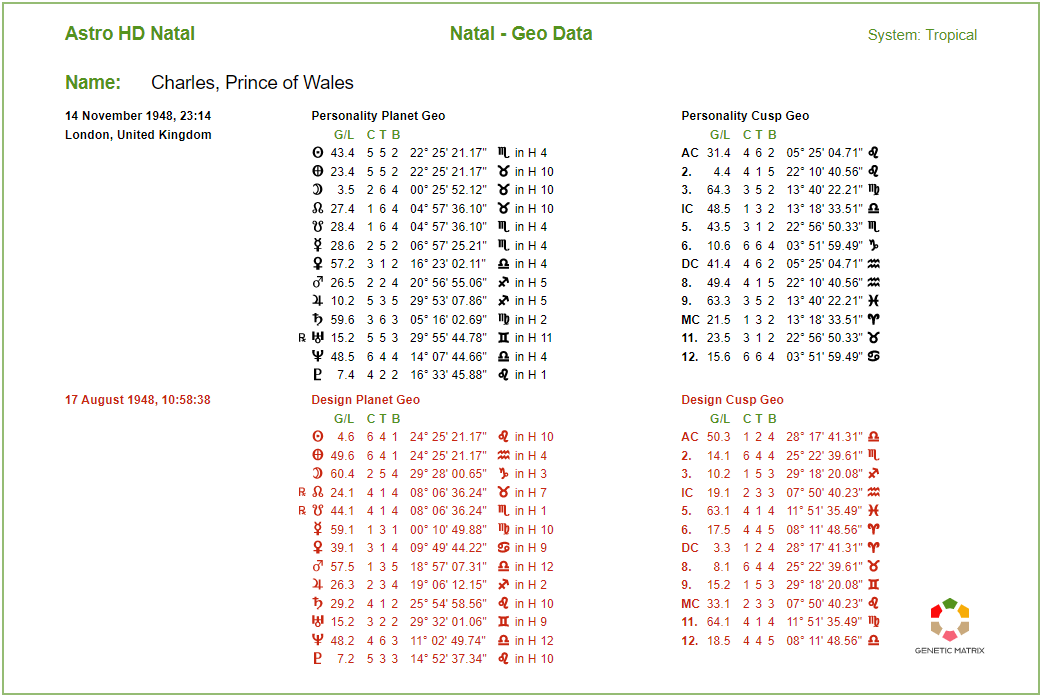 Genetic Matrix now offers an Astro HD Natal Geo Data Chart.  This chart easily shows which Gate and the line the planet is in as well as the Color, Tone, and Base.  It shows the astrological degrees of the planetary placement, what sign the planet is in, and which house the planet is in all at a quick glance.
The Astro HD Natal Geo Data Chart shows this for the personality/conscious placements and design/unconscious placements.  It also shows the Ascendant Gate and Line as well as the Ascendants Color, Tone and Base, Degrees, and Sign all at a glance.  It shows this information for the Ascendant, 2nd house cusp, 3rd house cusp, IC, which is the 4th house cusp, 5th house cusp, 6th house cusp, DC, which is the 7th house cusp, 8th house cusp, MC, which is the 10th house cusp, 11th house cusp, and 12th house cusp.
GEO is short for Celestial Coordinates
These are labels used to make the chart so simple and easy to read.
G/L = Gate / Line
C = Color
T = Tone
B = Base