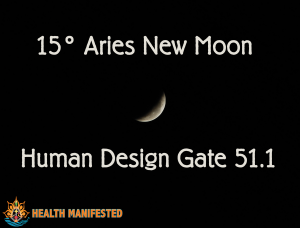 April 5, 2019 we have a New moon in Aries at 15° in Human Design gate 51.1.  This is the gate of Shock and Reference.  Gate 51 is part of the Channel of Initiation.  The gate 51 can help us move into a life we love more.  New moons are great times to get things started.  This new moon is helping you learn and embrace something about yourself and bring an awareness of your truth.  During this new moon, you don't want to rush forward, even though Human Design gate 51 can be initiating energy we need to remember this new moon is happening in line 1, which makes it a great time to investigate where we want to move forward.  Do your research.  Aries is traditionally risk-taking energy, but this is not a good time to take a risk.  We are going to be tested twice on April 5th to make sure what you are thinking about moving forward on is correct for you.  During this time we know what we need to be a new person and do things differently.  This can feel stressful, but keep moving forward.  People are going to be more supportive during this time and we can have a lot of positive conversations that can help us move forward and heal.
The first test after the full moon will be when Saturn in Human Design Gate 54.6, the gate of ambition and selectivity squares the Moon at 20° in Human Design gate 51.6, the gate of shock and separation.  During this time we can have delays on what we want to get started with and can feel frustrated, but can be excited about the future.
The second test will be when the Moon in Human Design Gate 42.3 the gate of endings and trial and error squares Pluto at 24° in Human Design gate 61.3.  This is the energy of mystery and interdependence.  This will create an emotional power struggle.  We are going to feel like we really really want something.  Your emotional desires are going to shine through.  This is going to bring attention to what is driving us and blocking us.  We are going to get a new understanding from this.  We will know what direction we are heading and can feel it coming.
At the same time the moon is going to trine Jupiter in Gate 11.2.  This is the gate of ideas and rigor.  This is going to give us an optimistic understanding and help us create expansion.  We can have an ah ha moment.  This is going to help you proceed and how to move forward.
What is keeping you blocked?  What old pains do you need to release?  Where do you feel like you have no control?  You are going to be freed from your pain.  This time can be very healing.
Jupiter is going to station retrograde on April 10th at 24° in Human Design Gate 11.2.  This is going to bring the ideas of what we want into focus, so we can reassess and review.  We are having to make serious decisions about our life and where we are going.  This is when we make things more solid and start moving forward.
Are you interested in learning more yourself or how these transits affect you on a personal level?  Check out our products page to learn about the different types of readings we offer.
Click here to learn more about other Human Design Gates. or see other transits. Also, make sure to get your Free Human Design chart to take on your journey through the exciting world of Human Design.